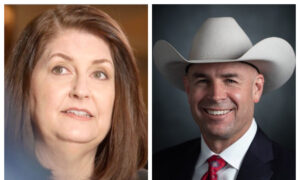 Two Texas Republicans will advance to a congressional race following a special election over the weekend, while Texas Democrats acknowledged Sunday they had fallen short.
Republicans Susan Wright, the wife of the late Rep. Ron Wright, and Jake Ellzey advanced in the Sixth Congressional District. Ellzey defeated Democrat Jana Lynne Sanchez, who came in No. 3, by about 400 votes for the second runoff spot.
The development will ensure that a Republican will win the seat in the runoff. Nearly two-dozen candidates had been competing to represent the northern Texas district following Ron Wright's death earlier this year.
"Democrats have come a long way toward competing in Texas but we still have a way to go," Sanchez said in a statement on Sunday in what appears to be a concession. "Unfortunately, tonight we came up short, and two Republicans will be competing to represent this Congressional district."
The district covers some southeastern parts of Fort Worth along with some rural areas. The race is seen as the first competitive federal election since President Joe Biden took office.
Democrats had hoped to flip the seat after former President Donald Trump drew a smaller number of votes in the district than he did in 2016. Trump won the district by three points in 2020, down from 12 points in 2016.
"Although a Democrat is not advancing to the runoff, yesterday's incredibly close margins showed that voters are invested in electing Democrats, and are fighting for the representation their communities deserve," Texas Democratic Party Chairman Gilberto Hinojosa said in a statement Sunday.
"The new Democratic South is rising, and we will continue to rally our movement to take back our state — including as we look toward the 2022 governor's race," Hinojosa added. "We're ready to build Democratic power, ready to defeat Texas Republicans, and ready to elect leaders who defend our rights and put Texans first."
On Saturday, Wright issued a statement after her victory: "Let's go win this!" She also used a hashtag for "Make America Great Again," Trump's campaign slogan.
On Feb. 7, then-Rep. Ron Wright died of COVID-19 complications, although he had battled cancer for years.
"It's been challenging at times, but the work goes on and he would want me to do what he did which is engage with voters, hear what they have to say, and talk to them so that is what we are doing," Susan Wright said, according to local media, referring to her husband's death.
Trump had endorsed Wright, telling supporters she "will be strong on the Border, Crime, Pro-Life, our brave Military and Vets, and will ALWAYS protect your Second Amendment."