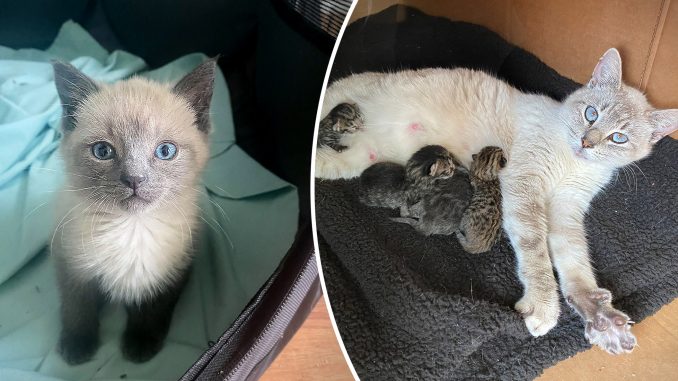 A selfless mama cat has adopted two homeless kittens into her litter and treated them as her own after they were found abandoned on the streets in Texas.
Mushu, a 9-month-old lynx point Siamese, was pregnant when she, herself, was rescued by animal foster carer Xiomara Arnold, 29, in early March.
Within days, on March 15, she gave birth to a litter of four kittens, which quickly became a litter of six when Mushu accepted two abandoned kittens, which Xiomara introduced, as her own.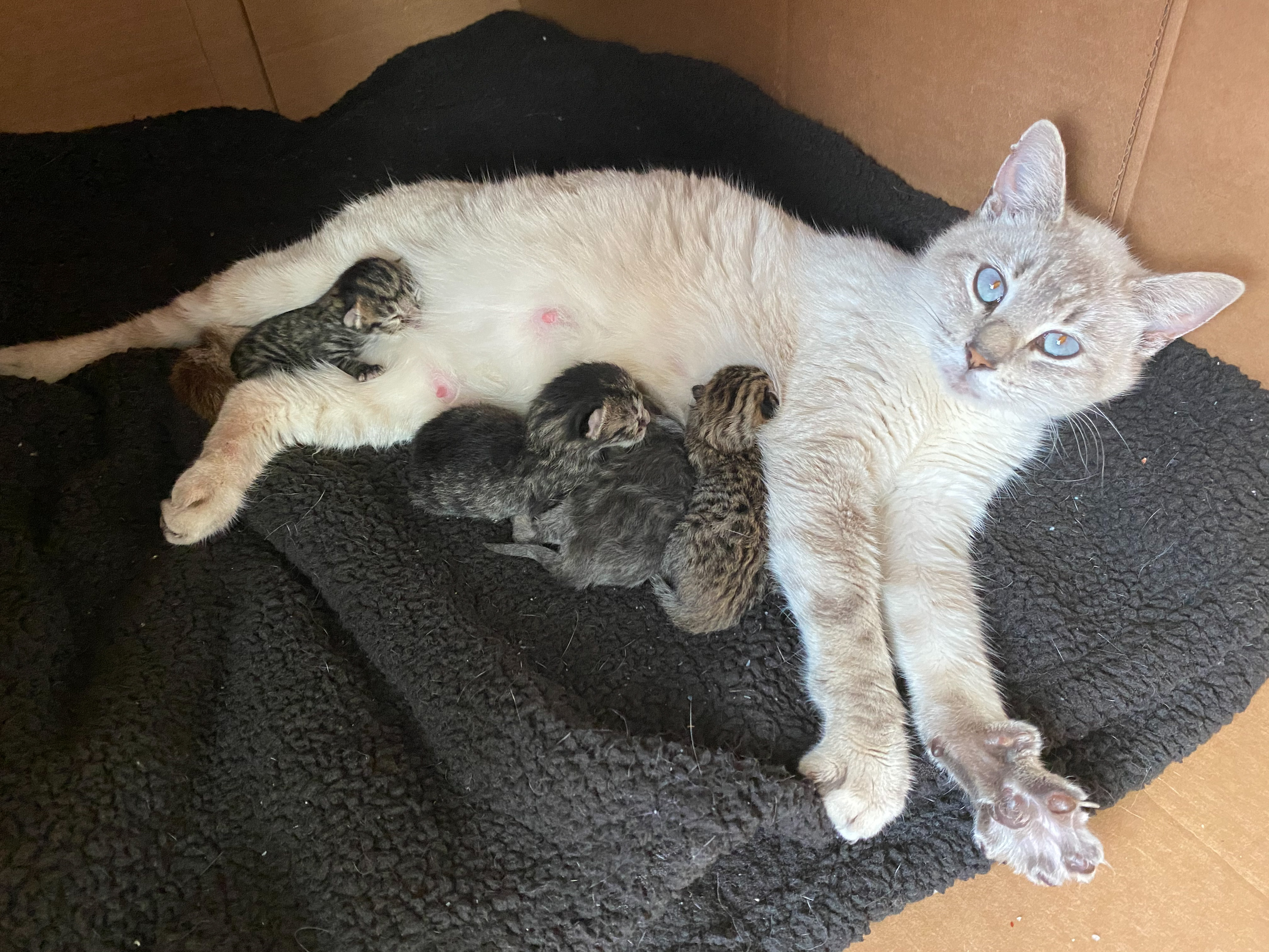 "I had no doubt in my mind that she would take the two abandoned kittens in because of the giving heart she has," Xiomara said.
"She was taken with them both immediately—I had them wrapped up in a towel and they would cry and she would start looking around frantically.
"Then when I showed her the baby she would grab it and run to the birthing box—she didn't even need to smell them first to make sure they were hers, she just knew there was a baby in need and wanted to take them in immediately.
"She treats them as one of her own from the start—she lies with them, licks them clean and doesn't settle until they start eating.
"I love all my foster animals but she is the best I've had by far."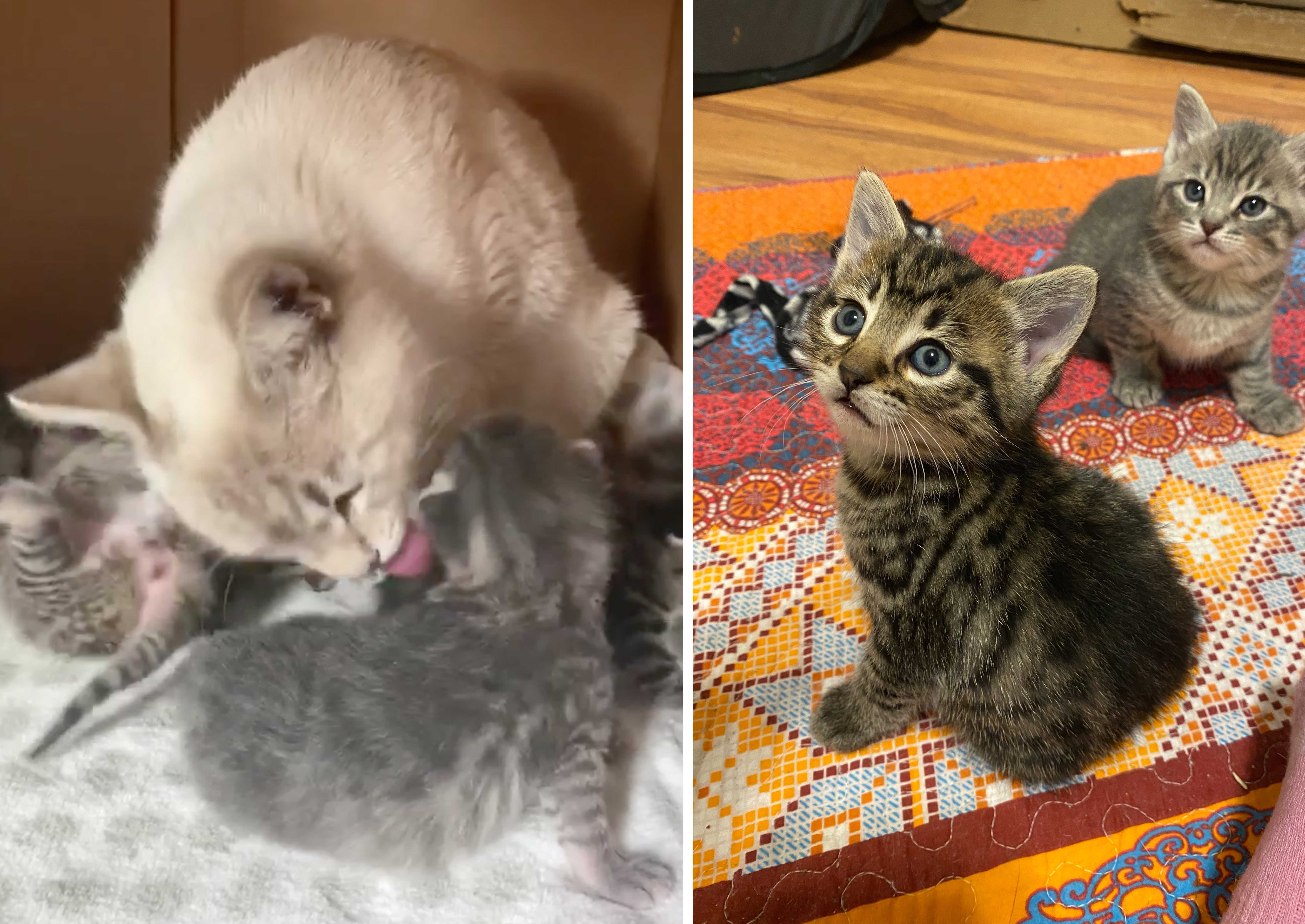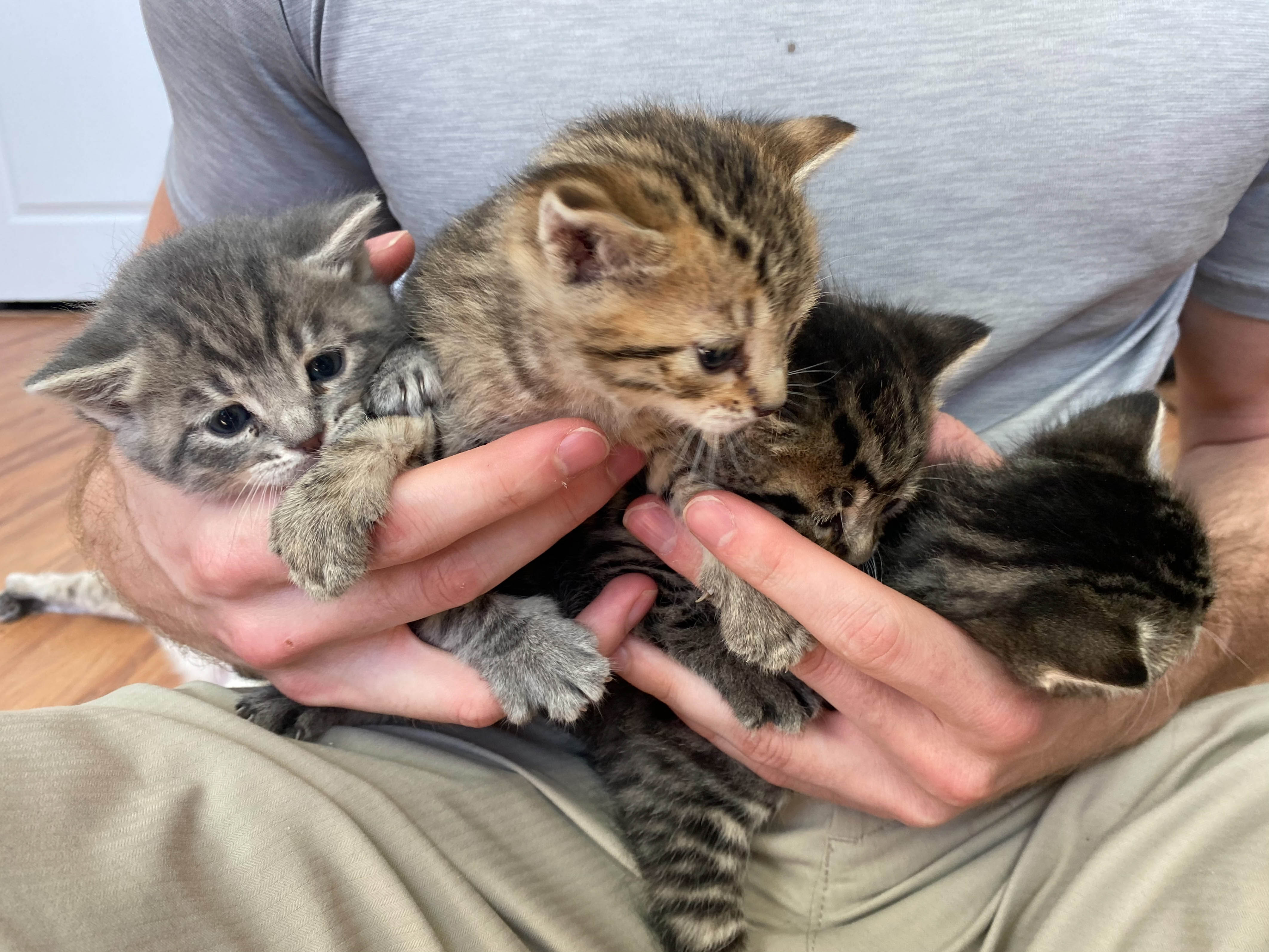 Xiomara introduced the first abandoned baby—Shrimp—to Mushu just two weeks after she had given birth to her biological kittens Miso, Wonton, Tofu, and Wasabi—adorably named after Asian dumplings. Baby Shrimp was a newborn at the time, only a few hours old with the umbilical cord still attached when he was found in some bushes, abandoned by his mother.
"She accepted him as her own but sadly he didn't make it, he was just so small and weak—he passed away after a week," Xiomara said.
"I think he may have had a congenital issue because he didn't gain any weight from drinking Mushu's milk like the other kittens did.
"Mushu never gave up on him though—it was so sweet watching her care for this baby that she knew wasn't hers."
Just a week after Shrimp passed away, on March 27, Xiomara took in another abandoned kitten, Mochi, who was found in an apartment block at just a few weeks old.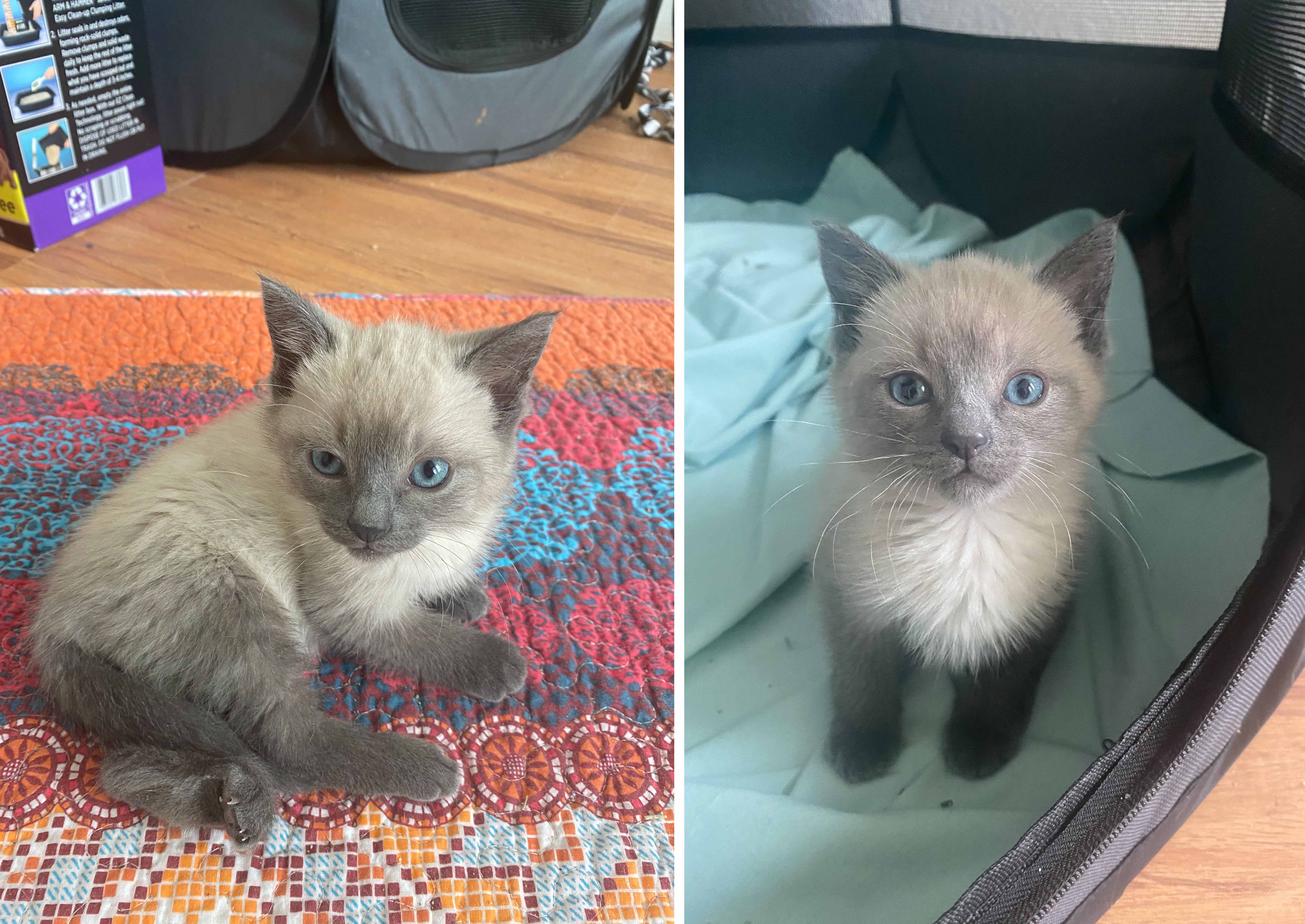 "She was very unsocialised so it was important that she was brought into a litter that was already trusting of humans—I didn't want her to be forced to be an outdoor cat for life," Xiomara said.
"At first she wanted nothing to do with Mushu and her kittens—Mushu kept trying to love her and she just kept trying to get away.
"But it didn't take long for her motherly love to win and now Mochi loves her and is part of the litter—it's like she's always been part of the family."
Mushu and her now 5-week-old biological kittens and 6-week-old adopted kitten Mochi will continue to be cared for by Xiomara in Houston, Texas, until they are old enough to find their forever homes at 8 weeks old.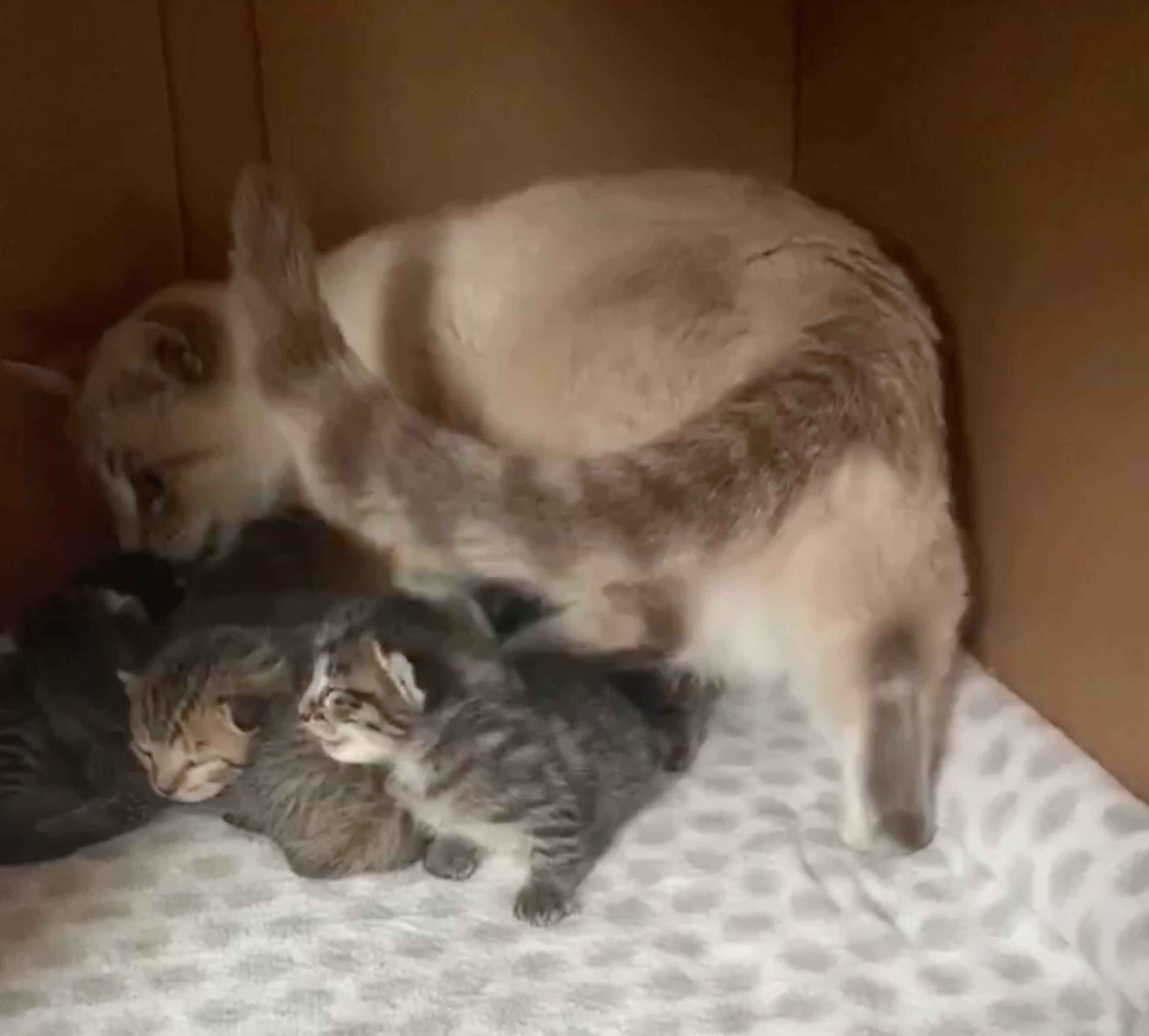 Their care is sponsored by Austin Siamese Rescue, which is a nonprofit, donation-based rescue that has been rehabilitating and re-homing abandoned and stray cats in central Texas for the last 20 years.
The rescue supported committed foster carer Xiomara—who has fostered 32 cats for the rescue in the past two years—in taking mama Mushu in after she was found roaming the streets pregnant in early March.
"She was about to have babies any day—I have a soft spot for pregnant cats because I couldn't imagine not having somewhere safe to go and give birth, so I took her in that night," Xiomara said.
"She's such an amazing mom and so attentive—the moment they start crying she goes over to them.
"She never left their side in the first week after they were born—I had to bring her food over to her and she would eat right next to them."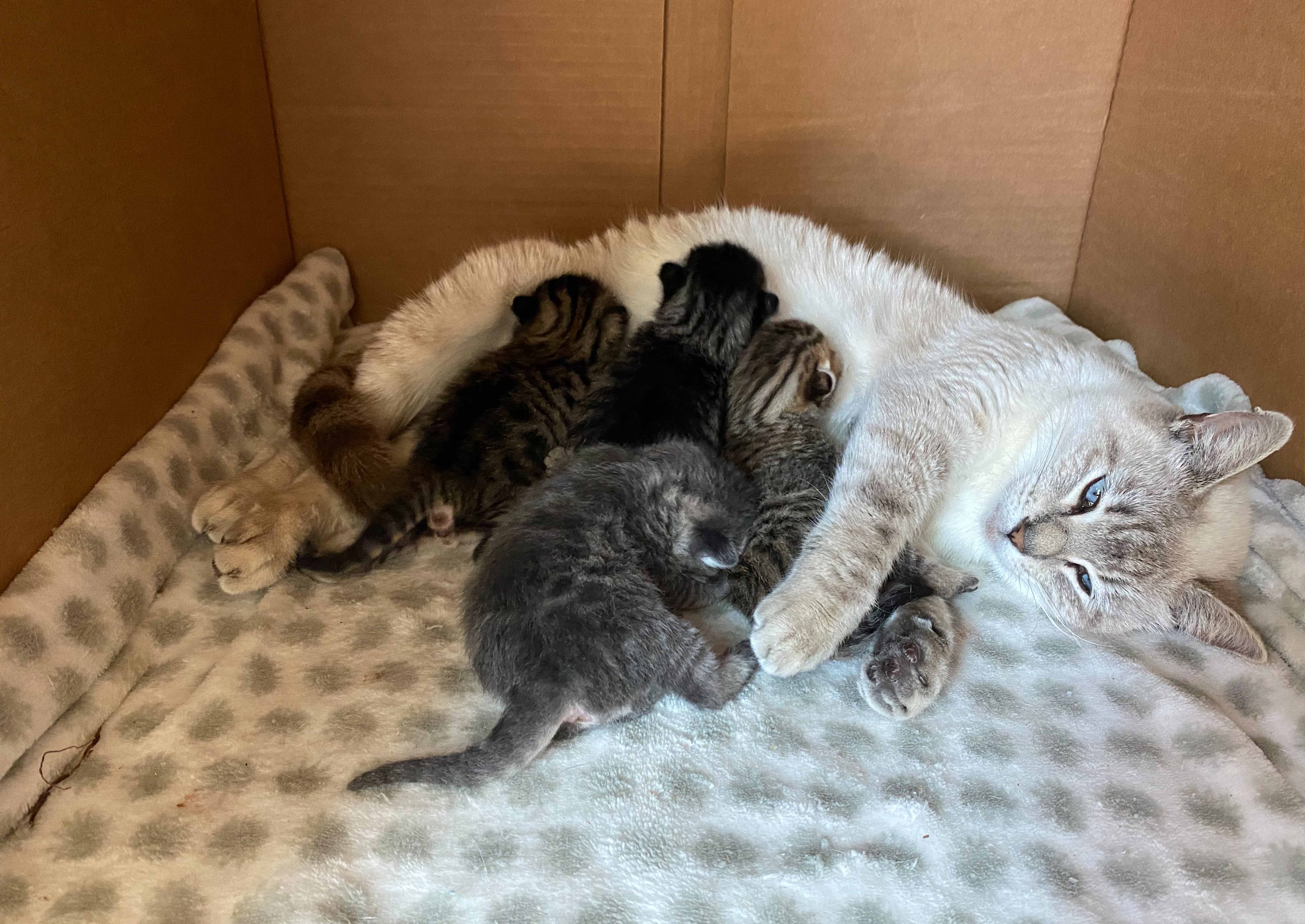 Xiomara hosted a live fundraiser via the rescue's social media pages to fund the care of Mushu and her babies, and they won the hearts of the rescue's following and immediately struck up lots of interest in adoption.
"A woman immediately got in touch who had had a cat who looked just like Mushu and had the same name and said she wanted to adopt her," Xiomara said.
"So Mama Mushu had her forever home sorted before she even gave birth to her babies!
"I had a meet and greet with the adopter recently which went well and she's also going to be taking baby Miso—Mushu's biological daughter—it's nice that they'll stay together.
"It's going to be bitter sweet—I've enjoyed her so much, she's been such a light in my life so it will be hard to see her go."
Epoch Times staff contributed to this report.
Share your stories with us at emg.inspired@epochtimes.com, and continue to get your daily dose of inspiration by signing up for the Epoch Inspired newsletter at TheEpochTimes.com/newsletter