Healthcare workers who have recovered from COVID-19, except those with Long-COVID, reported adverse reactions following their first dose of the Pfizer/BioNTech vaccine more often than those who had not been infected, according to a recent study.
Researchers in the United Kingdom surveyed more than 900 healthcare workers in three hospitals in a longitudinal observational study, and about 265 of the participants (30 with Long-COVID) were infected with the CCP virus prior to getting the Pfizer/BioNTech vaccine.
Long-COVID, or long haulers, are people who continue to experience COVID-19 symptoms months after first being infected with the CCP virus.
The study (pdf), which is still waiting to be peer-reviewed, found that the participants with a prior infection reported "at least one moderate-to-severe symptom" occurring within 24 hours at a higher rate than those with no history of COVID-19, a disease caused by the CCP (Chinese Communist Party) virus, also known as SARS-CoV-2.
Side effects of swollen lymph nodes, fever, muscle and joint pain, and fatigue were significantly correlated with previous COVID-19, the authors said.
The Centers for Disease Control and Prevention (CDC) said that people may experience systemic reactions like muscle pain, tiredness, and fever within a day or two after receiving the Pfizer/BioNTech vaccine, but did not list swollen lymph nodes as a possible adverse reaction.
Swollen lymph nodes are considered a serious adverse event and were observed in 0.3 percent of the 38,000 participants in the ongoing Pfizer/BioNTech Phase 3 trial. The rate of swollen lymph nodes was higher in the vaccine group in 64 participants compared to the six in the placebo group, according to Dr. Sara Oliver of the Advisory Committee on Immunization Practices Work Group.
In the UK study, about 4 percent of those with a prior infection reported swollen lymph nodes compared to the fewer than 1 percent in those with no history of COVID-19.
In addition, women and younger people were more likely to experience vaccine-related side effects.
"Our findings add to other reports supporting wider understanding of AEs [adverse events] following COVID-19 vaccination," the authors stated, adding that their "findings may help inform those with previous COVID-19, including Long-COVID, of increased susceptibility to certain AEs."
"Our study also adds weight to the question of whether a second dose of mRNA vaccine is necessary in those with previous COVID-19, assuming effective immunity is established after the first dose," the authors added.
Pfizer/BioNTech did not respond to a request for comment.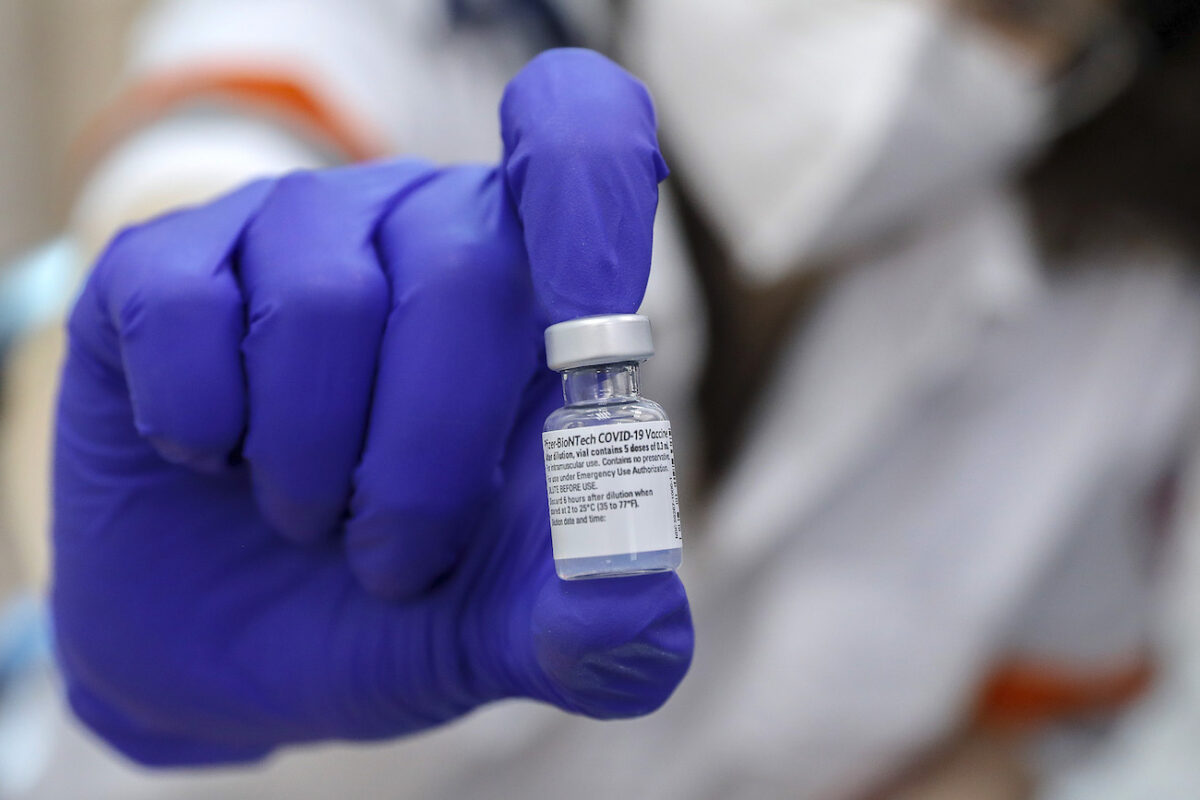 Another larger study published on MDPI, or Multidisciplinary Digital Publishing Institute, in March 2021 found that "a prior COVID-19 infection was associated with an increased risk of any side effect" as well as "an increased risk of severe side effects leading to hospital care."
The authors also noted that "while mRNA vaccines were associated with a higher incidence of any side effect," they were mostly milder, local reactions compared with viral vector-based vaccines.
The study involved a survey of 2,002 people who had received one of the vaccines authorized in the United Kingdom—Pfizer/BioNTech or the AstraZeneca. Of the 2,002 participants, 532 reported a prior COVID-19 illness but only 366 were confirmed by an antigen test and/or PCR.
Those with prior infections and who had experienced side effects after the first dose also had an increased rate and severity of adverse reactions after the second dose.
"Consistently, compared with the first dose of the vaccine, we found an increased incidence and severity of self-reported side effects after the second dose when recipients had been previously exposed to viral antigen, probably because they had already developed an immunity against the antigens," the authors said.
As early as February of this year, some scientists have questioned the need for two doses of the vaccines if an individual already had COVID-19 amid reports of vaccine shortages occurring around the world.
Researchers from Icahn School of Medicine at Mount Sinai said that people who have had recovered from COVID-19 experienced more severe whole-body reactions after the first shot and stronger side effects after the second shot. They suggested that people with prior infection should only get one shot of an mRNA vaccine.
The CDC told The Epoch Times in February that people should be vaccinated whether or not they've had COVID-19.
"Due to the severe health risks associated with COVID-19 and the fact that reinfection is possible, CDC recommends getting vaccinated regardless of whether you already had COVID-19 infection," a spokesperson from the CDC told The Epoch Times via email. "Experts do not yet know how long someone is protected from getting sick again after recovering from COVID-19."
Other scientists and physicians are inquiring why people with a prior infection and who have some measure of immunity against the CCP virus still need to receive the vaccine when the possibility of reinfection is rare.
The National Institutes of Health (NIH) said a vast majority of people's immune systems developed a lasting memory of the CCP virus after they have recovered from COVID-19, protecting them against the disease and reducing disease severity.
"The researchers found durable immune responses in the majority of people studied," the NIH said in a news release. "Antibodies against the spike protein of SARS-CoV-2, which the virus uses to get inside cells, were found in 98 [percent] of participants one month after symptom onset."
"As seen in previous studies, the number of antibodies ranged widely between individuals. But, promisingly, their levels remained fairly stable over time, declining only modestly at 6 to 8 months after infection," the health agency added.
Both memory B cells and T cells, or white blood cells that play a key role in the immune system to protect the body from infection, also increased over time, lasting much longer than what public health officials had predicted during the pandemic.
"Although the number of these cells [B cells] appeared to reach a plateau after a few months, levels didn't decline over the period studied," the NIH said.
As for T cells, six months after COVID-19 symptom onset, 92 percent of participants had certain T cells that recognized the virus, and about half had T cells that "kill cells that are infected by the virus."