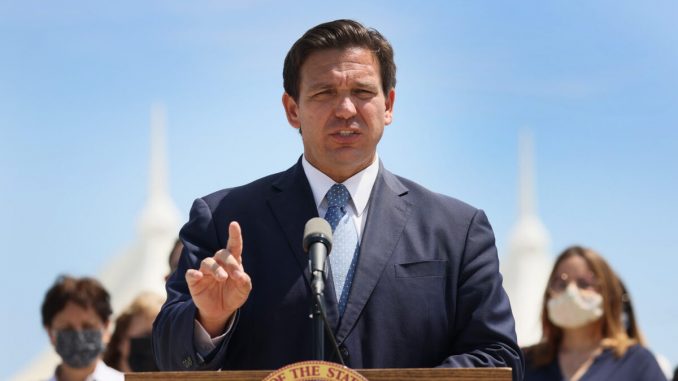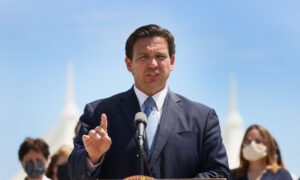 During an appearance on Fox News's "The Ingraham Angle," Republican Florida Governor Ron Desantis said that America is not a systemically racist country, calling the idea "a bunch of horse manure."
"Give me a break. This country has had more opportunity for more people than any country in the history of the world," DeSantis said.
"And doesn't matter where you trace your ancestry from. We've had people that have been able to succeed and all. And here's the problem with things like critical race theory that they are peddling. They are basically saying all our institutions are bankrupt and they're illegitimate. Okay, so how do you have a society if everything in your society is illegitimate?" said the governor.
DeSantis noted that critical race theory is getting banned in Florida public schools.
"It's a very harmful ideology, and I would say really a race-based version of a Marxist-type ideology. So we banned it here in our schools in here Florida. We are not going to put any tax dollars to critical race theory. We want to treat people as individuals, not as members of groups."
"There's no room in our classrooms for things like critical race theory. Teaching kids to hate their country and to hate each other is not worth one red cent of taxpayer money," he said in March.
On April 27, two Republican congressmen, Reps. Doug Lamborn (R-Colo.) and Jeff Duncan (R-S.C.) wrote a letter (pdf) to Education Secretary Miguel Cardona saying that they have "deep concern" about a criterion prioritization recently proposed for a $5.3 million American History and Civics Education grant, which would give higher concern to courses that include the New York Times's 1619 Project and the teachings of critical race theorist Ibram X. Kendi.
"Students should learn about the uniqueness and greatness of the American systems and the challenges we have overcome as a nation," the letter reads. "It is therefore counterproductive and even dangerous to allow our vulnerable school children to be taught the falsehoods prevalent in the 1619 Project or in Ibram X. Kendi's 'How to Be an Anti-Racist.'"
Former President Donald Trump is floating the idea of running for president in 2024 and might consider DeSantis as a running mate.
"I endorsed Ron, and after I endorsed him, he took off like a rocketship," Trump told Fox Business on April 29. "He's done a great job as governor. I'm saying what I read and what you read, they love that ticket. Certainly, Ron would be considered. He's a great guy."