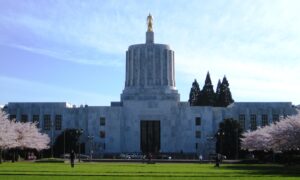 Oregon state Rep. Mike Nearman, a Republican, faces criminal charges for allegedly allowing demonstrators to breach the state Capitol in December.
Nearman has been charged with official misconduct and criminal trespass, both misdemeanors, following a probe into his role in a protest that turned violent at the Oregon State Capitol on Dec. 21, according to a court filing (pdf) with the Marion County District Attorney, obtained by OBP.
An aide at Nearman's office did not immediately respond to a request for comment from The Epoch Times.
The charges stem from an incident in which groups demanding an end to ongoing COVID-19 restrictions in Oregon gained access to the state Capitol as lawmakers were inside deliberating on COVID-19 relief measures.
Surveillance footage released by the Capitol in the aftermath of the incident showed what appears to be Nearman walking out a side door of the building, with a protester rushing through the open door to catch a secondary door Nearman had just walked through. While a second protester held the outside door, the two individuals started waving for other demonstrators to join them, the footage shows.
Police arrived on the scene and pushed the protesters back outside, but the door was being held open from the outside and the officers were unable to close it. A standoff between police and protesters ensued, with officers struggling to fend off surges in the doorway and both sides using pepper spray on one other. As chemical irritants filled the air, police retreated, and around 50 people forced their way into the Capitol's vestibule.
Following the incident, some lawmakers and groups called for Nearman's resignation, though the legislature declined to act on the calls until a criminal investigation concluded. State House Speaker Tina Kotek, a Democrat, stripped Nearman of his committee assignments in January and invoiced him for $2,000 to cover the costs of fixing the damage to the building, according to the Statesman Journal.
Nearman, in a letter read on the House floor, agreed to several safety measures, including giving the legislature 24 hours notice before planning to enter the Capitol building, and vowed not to let any unauthorized people inside in the future.
On Friday, following the announcement of criminal charges filed again Nearman, Oregon House Majority Leader Barbara Smith Warner renewed calls for Nearman's resignation.
"Given today's charges, it's clear that he's got to go. I urge every one of my colleagues, in every caucus, to call this out for what it is and join me in demanding that Nearman resign immediately," Smith Warner said in a statement, according to Oregon Live.
The misconduct charge Nearman faces is punishable by a maximum 364 days in prison and a $6,250 fine, while the trespass charge carries a maximum penalty of 30 days in jail and a $1,250 fine.
Nearman is scheduled to appear before a judge for an arraignment on May 11.