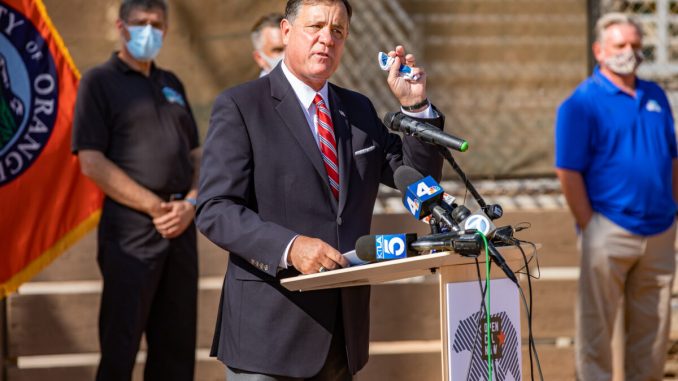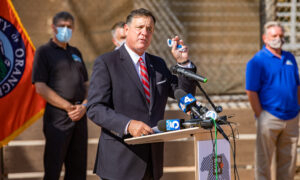 An Orange County supervisor's attempt to dispel COVID-19 vaccine myths backfired when his comments were taken out of context by national media outlets, officials say.
During an April 27 Board of Supervisors meeting, Supervisor Don Wagner questioned Orange County Health Care Agency director Clayton Chau on concerns Orange County residents shared about the vaccine.
"Is there any intention of tracking folks?" Wagner asked.
"Nope," responded Chau.
"We heard about an injection of a tracking device. Is that being done anywhere in Orange County?" said Wagner.
Chau chuckled, responding: "I'm sorry, I just have to compose myself. There is not a vaccine with a tracking device embedded in it, that I know of, [that] exists in the world. Period."
Wagner's questions were meant to appease members of the public, who expressed concerns about vaccine tracking earlier in the meeting, Chau told The Epoch Times April 30.
"This past Tuesday [April 27], at the board meeting, there were several speakers, people who come in and talked about that. That's why he asked me that question—for me to dispel the myth for the public," Chau said.
"He doesn't believe that. I know he doesn't believe that because we talked about it; and because I was the one who vaccinated him."
Late-night Punch Line
Some members of the media interpreted Wagner's comments differently. Late-night comedian Jimmy Kimmel poked fun at the politician during his April 28 show.
The clip initially appeared on April 27, in a tweet by former Daily Beast reporter Timothy Burke with the caption: "Republican Don Wagner, who represents three million Orange County residents, wants to know if the Covid vaccine has a tracking device in it."
This clip was picked up and reported by the Daily Beast April 28, with the article noting that Chau laughed in Wagner's face.
The article stated: "One of Southern California's top Republican lawmakers asked a doctor if there's a tracking device inside the coronavirus vaccines being given to residents—and got the exact response he deserved."
But Chau said it wasn't Wagner he was laughing at.
"There were actually people who showed up to the board of supervisor's meeting believing that there is a tracking device in the vaccine," he said. "That's what I was laughing at."
Setting the Record Straight
Wagner said during said during an April 29 press conference that he raised these specific questions "not because they're true, but to allow Dr. Chau to assure the public that the vaccines are safe. Dr. Chau and I were addressing rumors to help overcome vaccine hesitancy."
He said the board has received many emails regarding vaccine hesitancy and myths about the vaccine. The responsible thing to do is debunk the myths, he said.
"We're concerned about these sensational stories that they will cause individuals who might otherwise get the vaccine think there is a question to worry about some of the ramifications, and not get the vaccine."
Wagner said the media's coverage of the issue was an example of disinformation, and did not present the full picture.
"They did not in any way, do the due diligence responsible journalists should do to cover a story."
Following the conference, many media outlets who Wagner claimed initially misrepresented the clip, later incorporated his comments into their reports.
ABC and The Daily Beast were not immediately available for comment, nor was Timothy Burke.