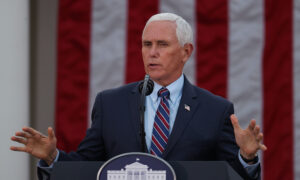 Former Vice President Mike Pence delivered his first public address since leaving office on Thursday in an attempt to contrast President Joe Biden's first 100 days with those of the Trump administration's first 100 days.
"I've had enough," Pence said at an event in South Carolina. "After 100 days, I think the time has come for Americans devoted to faith and family and freedom and limited government to stand up and unite behind a positive agenda and win back America. And it starts right here and right now in South Carolina."
The former vice president said that conservatives need to unite around a positive policy agenda.
"The time has come for freedom-loving Americans to stand up to the far-left agenda of the Biden-Harris, administration and say enough is enough," Pence said. "It's time to unite behind a positive agenda built upon our highest ideals and win back America. And we have the winning agenda, men and women, I have no doubt about it, built on American values and on our confidence in the American people."
On Jan. 6 during the Capitol breach, Pence was serving in his role as president of the Senate. He and members of Congress were forced to flee both floors of the House and Senate.
Meanwhile, Trump had called on Pence to reject votes from states where he said there were fraudulent votes cast. Pence ultimately declined not to challenge the certification of the votes, saying he thought the Constitution constrained him from intervening.
During his speech, Pence praised the Trump administration's accomplishments, saying it was "four years of consequence, four years of results and four years of promises made and promises kept."
Trump, in several recent interviews, suggested that he is considering running for president again. Speaking to Fox News on Thursday, the former president said that Florida Gov. Ron DeSantis could be a potential running mate should he do so.
"I endorsed Ron, and after I endorsed him, he took off like a rocketship," Trump told Fox Business. "He's done a great job as governor. I'm saying what I read and what you read, they love that ticket. Certainly, Ron would be considered. He's a great guy."
Trump has not made a definitive statement about whether he'd run again.
"It's a little bit of a crazy, complex thing," Trump said about making an announcement to run for president too early. "The whole fundraising contribution stuff is ridiculous; the laws are so archaic and stupid, frankly."