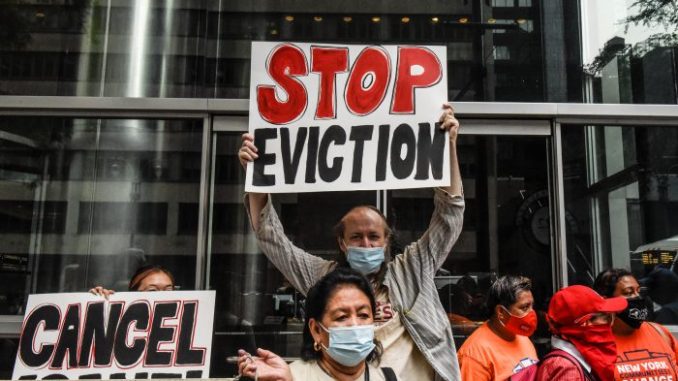 OAN Newsroom
UPDATED 8:32 AM PT – Friday, August 6, 2021
Just days after the federal eviction moratorium ended, the Biden administration announced a new halt of evictions set to last until October 3. However, doubts concerning the legality of Tuesday's extension had Americans question if the administration held the authority to extend the eviction ban, with landlords up in arms over the continued debts they have accumulated.
Earlier this week, the Biden administration said a Supreme Court ruling stood in the way of a moratorium. White House Press Secretary Jen Psaki disregarded concerns that Joe Biden was not following the rule of law in that decision during a press conference on Wednesday.
"I'm not sure there are Americans evaluating it to that degree," she expressed. "…He's gonna do everything in his power to make sure they can stay in their homes as long as possible."
Biden illegally extending the eviction moratorium is not just bad policy (many Democrats agree which is why they couldn't pass the bill), but also an authoritarian attack on our Constitution & our Republic.

The real authoritarians are and always have been on the American left.

— Dan Crenshaw (@DanCrenshawTX) August 5, 2021
The move has been met with heavy criticism from landlords who argued they held the burden of providing free housing and many have not received promised payment from the government during the first eviction moratorium. North Carolina landlord Buddy Shoup said he was out $24,000 in unpaid rent from tenants, while one of his renters purchased three boats during the eviction moratorium.
A study by NBC found of the $46 billion in federal aid given to states, only 26 states have allocated 10 percent of the money given to them due to the inconvenient and lengthy process for residents to apply for the assistance.
Stacey Johnson-Cosby, a Kansas City landlord, explained housing providers have been hurt and many have fallen behind on mortgages because of late rental payments.
"All of a sudden you expect your rental payments to make your mortgage payments and then to be able to maintain your property. The government steps in and not only tells us we can't do that, but demands that we give our product away for free," she explained. "You do not see that with any other industry. So while they shut the economy down, the burden is on back of the housing provider to house our fellow citizens free of charge. That is not only not fair, it's not constitutional and it's not sustainable."
Biden knew it was unconstitutional for the CDC to extend the eviction moratorium and circumvent Congress.

He didn't care and did it anyway.

— Rep. Lauren Boebert (@RepBoebert) August 4, 2021
Johnson-Cosby added renters needed to be made aware they were still reliable for the funds that haven't been paid. Prior to the extension, Democrat Rep. Cori Bush (D-Mo.) protested the end to the eviction moratorium by sleeping outside the Capitol building.
Meanwhile, the Biden administration maintains the extension is a short term fix they hope will give states the time to create a better system that allocates funds to tenants in need as well as get landlords caught up on missed payments.