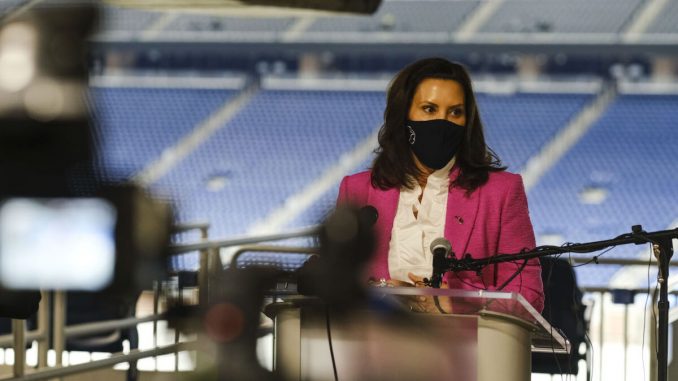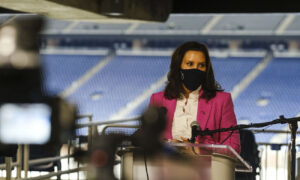 Michigan Gov. Gretchen Whitmer on Thursday announced a plan to tie the state's reopening and lifting of restrictions to the rate at which residents get the COVID-19 vaccination jab.
The effort dubbed the "MI Vacc to Normal" plan lays out four milestones based on the rate of vaccinations against the CCP (Chinese Communist Party) virus, commonly known as the novel coronavirus. The state has a goal of vaccinating 70 percent of Michiganders 16 years and older.
"To facilitate this goal, the Michigan Department of Health and Human Services will base future epidemic order actions on four vaccination-based milestones that, once achieved, will enable Michigan to take a step toward normalcy," Whitmer's office announced in a statement.
Whitmer on Twitter encouraged people to sign up for their vaccine appointments and characterized the effort as a "pathway to gradually get back to normal."
"Today, I announced the #MIVaccToNormalChallenge, a pathway to gradually get back to normal as we hit our vaccination targets and push toward our goal of vaccinating 70% of Michiganders ages 16 and older. Please, sign up for your vaccine appointment today. Let's get it done." pic.twitter.com/q7e4l2zdNR

— Governor Gretchen Whitmer (@GovWhitmer) April 29, 2021
"If you haven't [been vaccinated] already, I encourage you to rise to the challenge and be a part of the solution so we can continue our economic recovery and have the summer we all crave," the Democrat said in a statement.
Michigan has administered at least 6,657,997 doses of COVID-19 vaccines. Of the Michiganders 16 years and above, 48.8 percent have received at least one dose, and 35.9 percent have been fully vaccinated.
The state currently has a mask mandate and various capacity limits on indoor dining, gatherings, and entertainment venues. Gyms currently can open at 30 percent capacity, while dining venues, casinos, and other businesses have a 50 percent capacity limit, according to current rules (pdf) effective April 19 through May 24.
The first milestone in the "MI Vacc to Normal" plan is set for 55 percent of Michiganders to have received their first dose of the vaccine, plus 14 days. This would allow in-person work for businesses across all sectors.
If 60 percent of Michiganders receive their first dose of the vaccine, plus 14 days, indoor capacity at sports stadiums, conference centers, banquet halls, and funeral homes will increase to 25 percent, and capacity at exercise facilities and gyms will increase to 50 percent. Restaurants and bars will also have their curfews lifted.
If the 65 percent figure is reached, plus 14 days, all indoor capacity limits will be lifted and only social distancing would be required. Restrictions on social gatherings at residences would also be further relaxed.
And if 70 percent of Michiganders have received their first dose of the vaccine—5,667,842 residents—plus 14 days, restrictions on gatherings and face masks would be lifted, such that the Michigan health department "will no longer employ broad mitigation measures unless unanticipated circumstances arise, such as the spread of vaccine-resistant variants."
The health department may delay the lifting of restrictions even if the vaccination rates are reached in certain regions of the state if new cases remain greater than 250 daily per million as a 7-day average in that region.
Currently, COVID-19 vaccines authorized for emergency use in the United States are the Pfizer-BioNTech, Moderna, and Johnson & Johnson vaccines. Under the Emergency Use Authorizations (EUA), those 16 years old or above are authorized to receive the Pfizer-BioNTech vaccine, and those 18 years old or above are authorized to receive the Moderna and Johnson & Johnson vaccines.
Between Dec. 14, 2020, and April 12, 2021, the Vaccine Adverse Event Reporting System (VAERS) received 3,005 reports of fatalities among individuals in the United States who had received one of the three COVID-19 vaccines issued under EUA. More than 189 million doses of the vaccine were administered during this time.
The Centers for Disease Control and Prevention (CDC) and the Food and Drug Administration (FDA) on April 23 voted to lift a pause on the Johnson & Johnson COVID-19 vaccine after both agencies on April 13 had recommended the pause after six cases—one death among them—were reported in the United States of a rare and severe blood clot post-vaccination. Over 6.8 million doses of the Johnson & Johnson vaccine had been administered in the country as of April 12.
Vaccine providers are required to report any serious adverse effects or vaccination administration errors to VAERS, hosted by the Department of Health and Human Services. Vaccine manufacturers are immune from liability for any adverse reactions unless there is "willful misconduct" involved. The federal government has a Countermeasures Injury Compensation Program that can pay compensation to eligible persons who suffer serious injury from approved vaccines. But the burden of proof has proven a challenging process.
Meiling Lee contributed to this report.