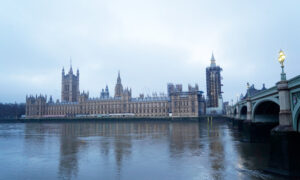 The
anti-bullying
, discrimination, and sexual harassment workshops were also condemned as a "complete waste of time" and "patronising." The comments came after it was reported that 60 peers had fallen foul of the Lords authorities because they had not completed Valuing Everyone training.Former Commons speaker Baroness Boothroyd, who recently underwent heart surgery, was said to be among them.
Lord Cormack took up the issue as peers were about to take a break at the end of the parliamentary session.
He warned that the issue of compulsory behavioural training was in danger of making the Lords a "laughing stock."
To murmurs of support, Lord Cormack said: "I was obedient but I found the course a complete waste of time—condescending, patronising, superficial, and not drawn up by anyone who appeared to be familiar with the workings of the Lords."
He said press reports suggested Lady Boothroyd, "one of our most distinguished members." was being investigated, along with 60 other peers, for not complying and taking the online workshop.
"She missed the deadline not because she refused but because she had medical health problems," he said.
Lord Cormack said in another "disturbing example," a Lord who was not able to take the course before the deadline but took it later was still being "censured."
He said that to "add insult to injury" the commissioner for standards, Lucy Scott-Moncrieff, had warned those peers involved that they would be in contempt of Parliament if they commented.
"I am astounded that she should make such bullying comments," Lord Cormack told the House.
Urging the Lords conduct committee to think again about the courses, Lord Cormack said he had no sympathy with peers who behaved badly.
But if compulsory courses were to continue, they should be done in-house rather than by spending £750,000 on a consultancy, which clearly had "little knowledge of Parliament."
He added: "To have the reputations of some of our most honoured members traduced in this way is completely unacceptable."
Tory former minister Lord Hamilton of Epsom said "serious money" was being spent on the courses and questioned whether they were worth the value.
Lord Hamilton said the course he attended involved the hypothetical case of a peer approaching a young girl in a "lecherous manner" in the library.
He said this was "almost too ridiculous to contemplate" because if someone wanted to approach a woman in the House they would not do it in public.
"I did learn something on this course," Lord Hamilton said. "There aren't such things as girls unless they are under the age of 14. It's inappropriate to call a woman who is over the age of 14 a girl.
"We can't say to a woman 'gosh, that's a nice new hairdo you've got' or 'I really like the dress you are wearing' because that's inappropriate as well.
"This course is a complete expensive farce and we should never have embarked on it in the beginning," he added, calling for it to be scrapped.
Lord Mance, chairman of the conduct committee, said the comments would be taken back to the committee and considered.
He said some concerns had already been expressed about the nature of the training and these had been relayed to the provider, with some alterations made.
By Trevor Mason