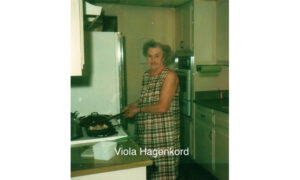 Anaheim police say a New Mexico man has been arrested in connection with the decades-old sexual assault and murder of a 79-year-old woman.
The case began Feb. 18, 1980, when Viola Hagenkord was found dead on her apartment floor. Before being killed, she had been sexually assaulted inside her home, on the 2500 block of W. Winston Road.
A neighbor discovered her body after residents grew concerned about not seeing her for two days.
The case went cold until 2020, when Anaheim's homicide unit reopened the file.
"We continue to hunt down anybody responsible for homicides regardless of how much time has gone by," Anaheim Police spokesperson Sgt. Shane Carringer told The Epoch Times. "Advancement in DNA technology made this case solvable now when it wasn't 41 years ago."
In collaboration with the Orange County crime lab and FBI's Orange County violent crime task force, William Lepere was identified as a top suspect, police said.
At the time of the murder, Lepere was a California resident and had family in Hagenkord's surrounding area, Carringer said.
Lepere, now 64, was arrested April 28 at his New Mexico home. He is being extradited to Orange County, where he faces a special circumstances murder charge.