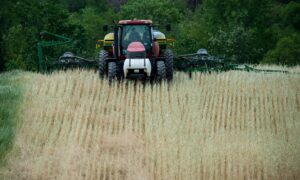 A disabled white farmer has sued President Joe Biden's administration over his COVID-19 loan forgiveness program, alleging he can't participate because he is white.
Adam Faust, a white resident of Chilton, Calumet County, is one of five Midwestern farmers who filed a lawsuit on April 6 that accuses the federal government of violating their constitutional rights, Fox 11 reported.
The other plaintiffs are farmers from Wisconsin, Minnesota, South Dakota, and Ohio who have direct loans with the Farm Service Agency or USDA-backed loans and are "otherwise eligible for the loan-forgiveness program in ARPA, except for the color of their skin," according to the lawsuit.
Attorneys for the Wisconsin Institute for Law and Liberty filed the suit on behalf of the white farmers in federal court in Green Bay, Wisconsin.
As per the lawsuit, the American Rescue Plan Act of 2021 (ARPA) provides $4 billion to forgive loans for "socially disadvantaged" farmers and ranchers.
The phrase "socially disadvantaged" includes explicit racial classifications, according to the lawsuit, which states that in order to be eligible for ARPA's debt relief, farmers and ranchers must be black, Native American, Hispanic, Asian American, or a Pacific Islander.
It contends that other farmers—white farmers, for example—are ineligible.
"Were plaintiffs eligible for the loan forgiveness benefit, they would have the opportunity to make additional investments in their property, expand their farms, purchase equipment and supplies, and otherwise support their families and local communities," the lawsuit states.
"Because plaintiffs are ineligible to even apply for the program solely due to their race, they have been denied the equal protection of the law and therefore suffered harm," it adds.
The lawsuit requests that the court enter a temporary and preliminary injunction preventing defendants from applying racial classifications when determining eligibility for loan modifications and payments and to declare that the racial classifications are unconstitutional.
Faust, who is the owner of Faust Farms, branded the program racist.
"It was just out and out racist, and I really don't think that there should be racism allowed in the federal government at any level," he told Fox 11.
"If somebody's green, I think they should be allowed to participate, based on their actual qualifications for the program, and not just picking an arbitrary thing like race."
"I don't see where they're gonna be impacted any different than anybody else," Faust said. "I've never seen any government program based solely on that. I mean, if it would've been against any other race, everybody would've been onboard and would've been complaining immediately!"
As per a press release from the U.S. Department of Agriculture published on April 29, the American Rescue Plan included provisions for USDA to pay up to 120 percent of loan balances, as of Jan. 1, 2021, for Farm Service Agency (FSA) Direct and Guaranteed Farm Loans and Farm Storage Facility Loans debt relief to any socially disadvantaged producer who has a qualifying loan with FSA.
The U.S. Department of Agriculture told Fox 11 that it was reviewing the lawsuit with the U.S. Department of Justice, but that the USDA plans to continue to offer loan forgiveness to "socially disadvantaged" farmers.
The Epoch Times has contacted the U.S. Department of Justice for comment.