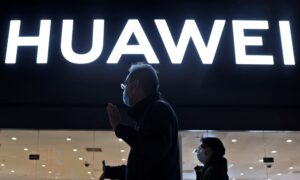 Embattled Chinese tech giant Huawei said Wednesday its first-quarter revenue fell 16.5 percent, hurt by a dip in smartphone sales.
Sales declined 16.5 percent from a year earlier to 152.2 billion yuan ($23.5 billion) due in part to lower revenue for its consumer unit, the company said. It gave no earnings but said its profit margin improved by 3.8 percentage points to 11.1 percent.
Huawei's phone shipments to retailers and other sellers within China plunge by half in the first quarter.
The company shipped a total of 14.9 million handsets within China in the quarter ending in March, down from 30.1 million in the same period last year, according to research firm Canalys.
Its market share also dropped to 16 percent from 41 percent a year ago, becoming the third largest after fellow Chinese brands Vivo and Oppo.
Huawei was put on a blacklist by former U.S. President Donald Trump in 2019 that barred the company from importing critical technology of U.S. origin, affecting its ability to design its own chips and source components from outside vendors.
Washington says the Huawei is a security risk and might facilitate Chinese spying, an accusation Huawei denies.
The sanctions bar access to U.S. processor chips and services including Google's music and other popular apps. Huawei designs its own chips, but manufacturers are barred from using U.S. technology required to produce them.
The ban put Huawei's once lucrative handset business under immense pressure, prompting the sale of its Honor budget smartphone unit to a group of agents and dealers.
Huawei has responded by emphasizing its sales in China and for electric and self-driving cars, industrial networks and other technology that is less vulnerable to U.S. pressure. Huawei has a stockpile of U.S. chips for high-end smartphones but executives have said those were being used up.
Wednesday's announcement gave no details of sales by network gear, consumer and other business lines.
Reuters contributed to this report