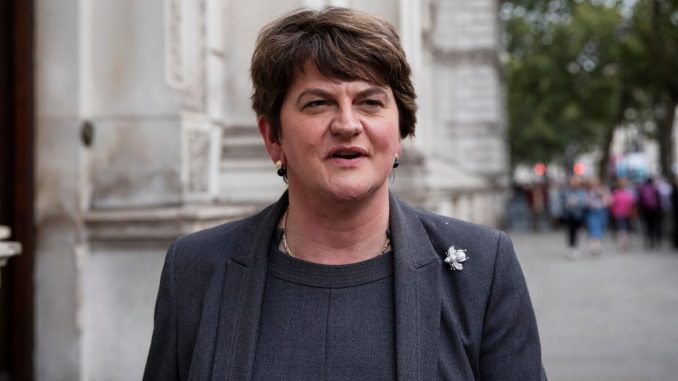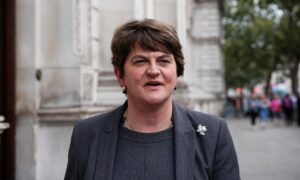 Arlene Foster said on Wednesday that she will quit as leader of the Democratic Unionist Party (DUP) and first minister of Northern Ireland.
She said she will leave her DUP role on May 28 and resign as first minister at the end of June.
Foster, who has been first minister for five years, had faced mounting discontent among her party over her handling of Brexit and a decision to abstain in a vote on gay conversion therapy.
"It has been the privilege of my life to serve the people of Northern Ireland as their first minister and to represent my home constituency of Fermanagh/South Tyrone," she said in a statement.
"I have sought to lead the Party and Northern Ireland away from division and towards a better path," she said.
"The future of unionism and Northern Ireland will not be found in division, it will only be found in sharing this place we all are privileged to call home."
Brandon Lewis, the UK government's Northern Ireland secretary said Foster is "a truly dedicated public servant."
"There are many young people, particularly young women, who will be inspired by her example to follow a path into politics," he wrote on Twitter.
Foster's position had been in doubt since it emerged that a significant number of her colleagues had signed a letter of no confidence circulated among party bigwigs.
There has been growing unease among DUP members about Foster and the wider party leadership in recent months.
The primary source of concern is the handling of the Brexit process. The Brexit withdrawal deal includes a Northern Ireland Protocol, which guarantees there is no land border between Northern Ireland and the Republic of Ireland, which the EU sees as key to protecting the Northern Ireland peace process set out in the Good Friday Agreement.
But it effectively erects a customs border between Northern Ireland and the rest of the UK and has been vehemently opposed by unionist politicians.
Critics have accused Foster of failing to use the party's influence at Westminster to make sure that Northern Ireland could leave the EU on the same terms as the rest of the UK.
Apart from Brexit, the more conservative wing of the DUP perceives Foster as being too moderate on some social issues.
Last week, Foster angered supporters for being one of five DUP members who abstained in a vote in the Northern Ireland Assembly on a motion calling for a ban on gay conversion therapy, when the majority of her party colleagues voted against it.
PA contributed to this report.