The outgoing Samoan government on May 24 blocked Prime Minister-elect Fiame Naomi Mata'afa from entering Parliament House to be sworn in, pushing Samoa into its biggest constitutional crisis in decades.
May 24 was the last day Fiame and her incoming governing party, Faatuatua i le Atua Samoa ua Tasi (FAST), could legally be inducted into power under the Samoan constitution, which gives 45 days for the change of government to occur.
Despite being locked out, Fiame held a swearing-in ceremony on the lawn outside the Parliament, without the head of state, judiciary, and opposition MPs, the New Zealand Herald reported. But the Samoan attorney-general declared the ceremony illegal.
Caretaker Prime Minister Tuilaepa Sailele Malielegaoi has accused Fiame, who was his former deputy prime minister, of treason and staging a coup—this is despite the Supreme Court declaring FAST the legitimate winner after it gained more seats than Tuilaepa's Human Rights Protection Party (HRPP).
"This is treason and the highest form of illegal conduct," Tuilaepa said.
Tuilaepa called the FAST a mafia-like organisation and accused them of being mentally unstable and of misleading the public. He also indicated that he would not relinquish his hold on power, saying that the people of Samoa calling for him to step down will "need to come to us and beg."
Meanwhile, FAST also described their being blocked from being sworn in inside Parliament to a coup.
Tuilaepa is one of the worlds longest-serving prime ministers, governing the island for 22 years, while HRPP has been in power for 39 years.
This attempt by HRPP to maintain their hold on power comes after FAST won the election by a narrow margin of one seat after HRPP and FAST both won 25 seats in the Parliament. One independent MP sided with FAST, giving them the majority.
HRPP then declared that they had not met the country's 10 percent quota for female MPs and appointed an additional female MP, taking its numbers to 26—equaling FAST. However, the Supreme Court ruled that HRPP's action was improper, clearing the path for FAST to claim an electoral victory.
Following the Supreme Court ruling, Samoa's head of state, Afioga Tuimalealiifano Vaaletoa Sualauvi II, cancelled the Parliamentary sitting without explanation. The Supreme Court then overruled his decision and ordered Parliament to be convened on May 24 to swear in Fiame and her new government.
Fiame recently made international headlines when she stated she would scrap a US$100 million Chinese-backed port development, saying it is excessive for the small Pacific island already saddled with major debts to Beijing.
This marked a change in the direction of the previous administration under Tuilaepa, which had been increasingly pro-Beijing.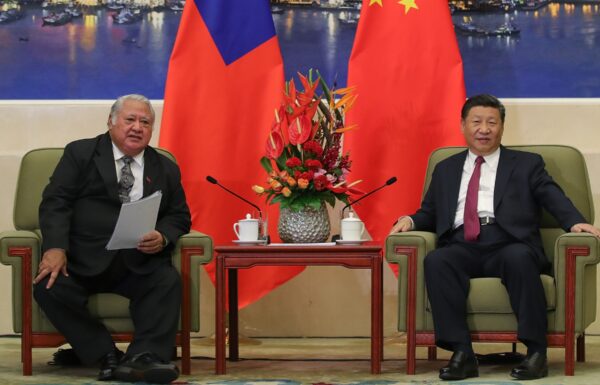 United Nations (UN) Secretary-General António Guterres issued a statement on Tuesday saying the UN stands ready to provide support to Samoa if called on.
"The Secretary-General has been following the developments since the 9 April General Elections in Samoa," the spokesperson said. "He urges the leaders in Samoa to find solutions to the current political situation through dialogue in the best interest of the people and institutions of Samoa."
A concerned New Zealand Prime Minister, Jacinda Ardern, also spoke about the political instability on TVNZ Breakfast on Monday and called on all parties to uphold democracy.
"Here in New Zealand, we have complete faith in Samoa's institutions, and that includes its judiciary, which has been playing a very strong role in interpreting its view on what needs to happen after the election," Ardern said.
"We also support Samoa's democracy, and we would call on others to do the same. Obviously, now this is a very big crossroads. this is a big change for Samoa over what's been occurring over the past 20 years in their elections. But our call would be to just maintain and uphold the rule of law and that democratic outcome," she said.
Australian Foreign Minister Marise Payne told The Epoch Times on Tuesday that Australia values its close friendship with Samoa but that it was important that all parties respect the rule of law and democratic processes.
"We have faith in Samoa's institutions including the judiciary," Payne said.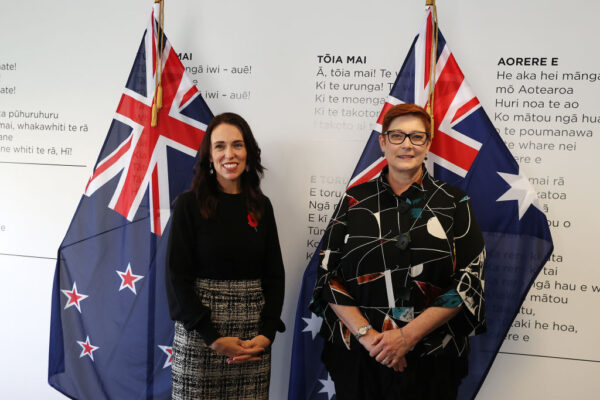 International Support for Fiame
Despite the questions over the legality of her swearing-in, Fiame and FAST have received support from the Pacific community.
The Federated States of Micronesia supported Fiame's right to lead the country, writing on Twitter, "The Federated States of Micronesia Recognizes the Legitimacy of Prime Minister Fiame Naomi Mata'afa."
@vaiala The Federated States of Micronesia Recognizes the Legitimacy of Prime Minister Fiame Naomi Mata'afa: https://t.co/xnxhQUC643 pic.twitter.com/9Pv5eDfO7b

— Federated States of Micronesia Public Information (@FSMPIO) May 24, 2021
Likewise, Fiji's Women Forum has also congratulated Fiame, stating that she is a strong advocate for women.
"Mata'afa is a strong advocate for women's development and participation in politics and one of Samoa's first female members of Parliament," they said.
"The validation of Mata'afa's victory by the Supreme Court and her leadership of her new party, against a decades-long incumbent Government, is inspirational and paves the way for all female politicians, and young women with political aspirations in the Pacific region," they said