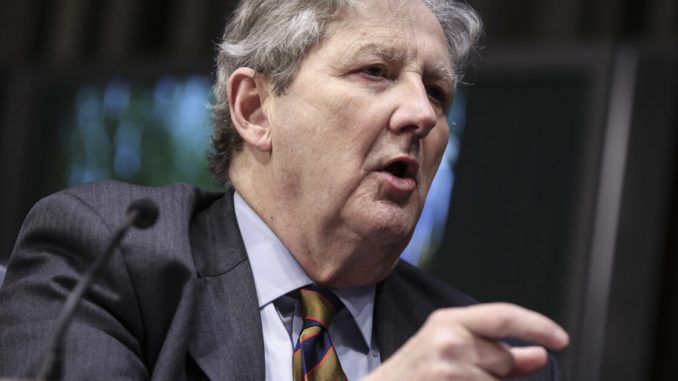 OAN Newsroom
UPDATED 8:31 AM PT – Wednesday, April 28, 2021
Republican senators are skeptical that Joe Biden's calls for unity will ever be anything more than an empty promise. On Tuesday, Sen. John Kennedy (R-La.) said Biden's planned speech before Congress will be nothing new because he has already shown his true colors.
The Louisiana lawmaker pointed out that Biden has called those who disagree with him "Neanderthals." The senator went on to say he's not expecting Biden to say anything outside of his "woke" talking points. He added that Biden is advancing far-left policies, which is a far-cry from his hypocritical calls for unity.
"He (Biden) clearly believes that he can tax, spend and regulate our country into prosperity," Kennedy stated. "He has told every American who believes we should have a good faith effort to go back to having an election day instead of an election month that they are racist."
Meanwhile, Sen. Mike Braun (R-Ind.) criticized Biden for including partisan agenda items in his recent spending bills that do little to address COVID-19 and infrastructure.
"But when it comes to COVID relief, there wasn't much of anything in there that we would have been interested in other than the relief itself," noted the Indiana lawmaker. "Likewise on the infrastructure discussion, it looks like it's that same approach, so I think there's going to be a point where you invite discussion being involved in the dialog."
President Biden's infrastructure plan will gut the energy industry, raise taxes, and cost 1 million American jobs. This isn't a plan for Americans, it's a plan for the radical left.

— Rep. Mark Green (@RepMarkGreen) April 26, 2021
While many Republican senators have elected to skip Biden's first address to a joint session of Congress, both Kennedy and Braun have decided to attend while hoping that just this once Biden might chose to do the right thing.