Rep. Tim Ryan (D-Ohio), a 10-term representative in Congress since 2003 and a former Democratic presidential contender, announced his run for the U.S. Senate on Monday morning.
"I'm running for Senate because Ohioans are working harder than ever, they're doing everything right, and they still can't get ahead," Ryan wrote on Twitter. "It's time to hit the reset button."
Ryan is running for the seat to be vacated by Sen. Rob Portman (R-Ohio), who announced on Jan. 25 that he wouldn't seek his third-term reelection in 2022.
Originally from Ohio's blue-collar Mahoning Valley, Ryan stressed his focus on workers and jobs, in the video accompanying his announcement.
"We need to invest in the businesses so they can create more jobs for even more workers. We need to step up our training and science and technology, so the clean energy jobs come to Ohio today," Ryan said in the video. 
"We need to make huge investments into our public infrastructure, our roads, our bridges, our airports, broadband, we can actually revitalize manufacturing, secure U.S. supply chains, and make things here," Ryan continued.
Ryan, 47, launched his presidential run in April 2019 and withdrew five months later. He also famously ran to replace House Speaker Nancy Pelosi in November 2016, following former President Donald Trump's surprising win.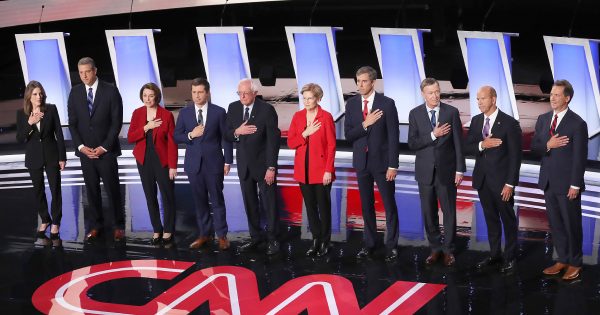 Bob Paduchik, chair of the Ohio Republican Party, said in a statement that Ryan's support of radical left-wing policies does not represent the "values of Ohio's working men and women."
"Mr. Ryan himself says he is in 'lockstep' with progressives on open border policies, supports the job-crushing Green New Deal, and has been a vocal proponent of the Biden-Harris $2 trillion 'infrastructure' plan," Paduchik wrote.
Former Ohio Governor Ted Strickland, a Democrat, recently told the Associated Press that Ryan has "raw political talent and the skill" necessary to run a winning campaign.
"He can appeal to blue-collar workers, any part of Ohio, and any constituent group," the former governor said. "He's eloquent, and he has the ability to express the Democratic message in a compelling way."
Ryan is the first Democratic candidate to officially announce his bid for Ohio's Senate seat. Ohio House Minority Leader Emilia Sykes and Franklin County Commissioner and former Ohio Treasurer Kevin Boyce have also publicly expressed interest in the race.
At least four Republicans have already declared their intentions to run, including former Ohio Treasurer Josh Mandel, former Ohio GOP Chair Jane Timken, tech company executive Bernie Moreno, and investment banker Mike Gibbons.
At the end of last month, Trump met the four candidates face-to-face during a fundraiser at his gold club in West Palm Beach, Florida.
All four candidates talked about their support of the former president during the meeting, apparently trying to gain Trump's endorsement. Trump won Ohio by 8 percent, both in 2016 and 2020.
Gibbons mentioned that he had given six-figure donations to Trump's campaign through the Republican National Committee in 2016 and 2020. Moreno said his daughter worked for Trump's 2020 campaign. The Epoch Times verified the details with two people close to the attendees.
In official campaign statements, Timken and Mandel said they were running to fight for Trump's agenda in Washington.
On April 15, Trump's former senior counselor Kellyanne Conway joined Moreno's campaign as a senior advisor. Richard Grenell, Trump's ambassador to Germany and acting director of National Intelligence, also chairs Moreno's national steering committee.
The Associated Press and Ivan Pentchoukov contributed to this report.