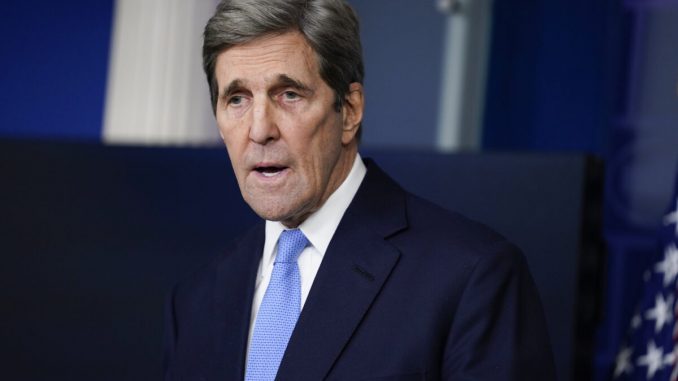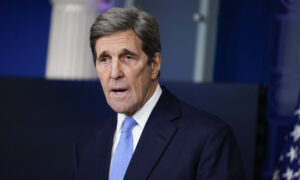 U.S. Special Climate Envoy John Kerry on Monday denied allegations stemming from leaked audio that suggested he disclosed the number of Israeli attacks on Iranian targets to Iranian Foreign Minister Mohammad Javad Zarif.
"I can tell you that this story and these allegations are unequivocally false. This never happened—either when I was Secretary of State or since," Kerry wrote on Twitter.
Kerry's response was attached to a Twitter message by a Washington Post reporter who cited a State Department spokesperson saying that the Israeli attacks had already been disclosed by Israel itself. The Post reporter further shared a September 2018 Reuters story in which an Israeli official said that the U.S. ally had carried out 200 attacks against Iranian targets in Syria.
It is unclear if the alleged disclosure by Kerry came before or after the disclosure by Israel.
Prominent Republicans responded to the news of the leaked audio with calls for Kerry to step down or be fired.
"The allegations involving John Kerry are deeply disturbing and must be explained immediately," Sen. Rick Scott (R-Fla.) said in a statement. "Until we have clarity and know the truth, President Biden must remove John Kerry from all access to and briefings on national security intelligence. If these allegations are true, he must resign."
"If this is true, it's traitorous and Kerry needs to go," Sen. Dan Sullivan (R-Alaska) wrote on Twitter.
"This is a criminal act and John Kerry must be immediately investigated and PROSECUTED," Rep. Elise Stefanik (R-N.Y.) wrote on Twitter. "President Biden must immediately remove John Kerry from any government or advisory position."
In the leaked audio, Zarif, Iran's top diplomat, complains that the elite Revolutionary Guards had more influence in foreign affairs and the country's nuclear dossier than him.
"I have never been able to tell a military commander to do something in order to aid diplomacy," Zarif said.
Relations between pragmatist President Hassan Rouhani's government and the Guards are important because the influence of the hardline paramilitary force is so great that it can disrupt any rapprochement with the West if it feels this would endanger its economic and political interests.
The Guard's traditional skepticism about any cultivation of detente with Washington may become relevant if talks between Iran and world powers advance efforts to revive a 2015 nuclear deal that President Donald Trump exited three years ago.
Without disputing the audio's authenticity, the foreign ministry spokesman on Monday said that the news channel only published excerpts of the seven-hour interview with the foreign minister.
Reuters contributed to this report.