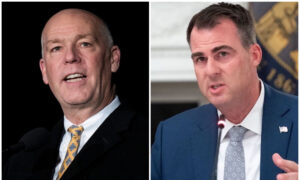 Oklahoma Gov. Kevin Stitt and Montana Gov. Greg Gianforte on Monday each signed three bills to restrict abortion in their states.
Republican Gov. Stitt announced on Twitter the three bills set to be effective Nov. 1 in Oklahoma. "I'm keeping my promise to sign all pro-life legislation," he said. "We now have three more laws protecting the lives of the unborn! HB 2441, HB 1904, and HB 1102."
The state's HB 2441 (pdf), set to be effective Nov. 1, stipulates that no person shall carry out an abortion without first checking whether the unborn child has a heartbeat. If a heartbeat is detected, typically at about six weeks of pregnancy, the abortion is prohibited. Anyone who violates the law "shall be guilty of homicide."
The exception is when there is "reasonable medical judgment" that the pregnant woman has a condition that makes the abortion necessary to save her life or to "avert serious risk of substantial and irreversible physical impairment of a major bodily function, not including psychological or emotional conditions." The judgment cannot be based on any claim or diagnosis that the woman could engage in suicidal or self-harming activities.
HB 1904 (pdf) requires that abortions can only be performed by physicians licensed to practice medicine in Oklahoma and are board certified in obstetrics and gynecology.
Physicians who carry out abortions in violation under certain circumstances may have their medical license suspended for at least a year, per Oklahoma's HB 1102 (pdf), which adds such violations to the list of unprofessional conduct acts for doctors.
In Montana, Gov. Greg Gianforte, a Republican, signed a separate trio of bills. He announced on Twitter on Monday, "Life is precious and ought to be protected. Today, I proudly signed into law bills to protect the life of our most vulnerable, the unborn."
"It's a promising day, a day that will go down in our state's history as we defend life," the governor said upon signing the bills in the presence of a joyful crowd of Republican lawmakers and pro-life activists, reported The Associated Press.
The state's HB 136, also known as the "Montana Pain-Capable Unborn Child Protection Act," would prohibit an abortion of an unborn child capable of feeling pain, which is typically at about 20 weeks of pregnancy, "unless it is necessary to prevent a serious health risk to the unborn child's mother." Those who are found to knowingly carry out abortion in violation of the new law are guilty of a felony punishable in accordance with the Montana Abortion Control Act.
HB 140 requires the abortion provider or their agents to inform the pregnant woman, prior to potentially undertaking an abortion, of her opportunity to view an active ultrasound or view an ultrasound image of her unborn child. They must also inform her that she has the opportunity to listen to the fetal heart tone of the unborn child.
Meanwhile, HB 171 sets rules around how abortion-inducing drugs are administered in a chemical abortion. The abortion provider must administer the drug in person, rather than through telehealth. They also must check to confirm the gestational age of the unborn child, where the child is located in the uterus, and whether the unborn child is alive—because giving the drug to a woman who has miscarried is unnecessary, and exposes the woman to unnecessary risks.
The new law requires that the abortion provider must also not prescribe or give an abortion-inducing drug after 70 days have passed since the first day of a woman's last menstrual period. The abortion provider must also give the woman comprehensive information on abortion-inducing drugs, including how there is a potential to reverse the effects of the drug if she changes her mind.
No Democrat in Montana supported any of the three bills.