Police say a man with cameras attached to his car captured an attempted robbery in Irvine, Calif.
Now, police are looking for those responsible for the botched crime, which happened April 24 at a Ralph's parking lot off Harvard and Main.
Footage from the incident, caught by a car equipped with cameras, shows a man leaving a Ralph's at 3:54 p.m. That's when four men, one handling a gun, emerged from a gray Nissan Sentra and a white Mercedes.
They chased the victim into a Rubio's restaurant located in the same parking plaza.
After the initial victim makes it into the Rubio's and locks the door, the four culprits approach a white Range Rover. The man holding a gun points it toward the window of the SUV.
After, the video appears to show all the victims driving away.
Police don't believe the incident was random, Irvine Police Department spokesperson Sgt. Karie Davies told The Epoch Times.
"If you look at the video, it kind of almost seems like maybe this person was targeted," Davies said April 27. "Just because [the victim] happens to be walking in the parking lot, this car happens to drive up next to him, and these four guys happen to get out. So it just seems all too coincidental. But until we find out who these people are and interview them, we won't know for sure."
She added: "[The victim] was saying he was dressed nice and he thought maybe he was targeted for that reason, like they were going to rob him or steal from him."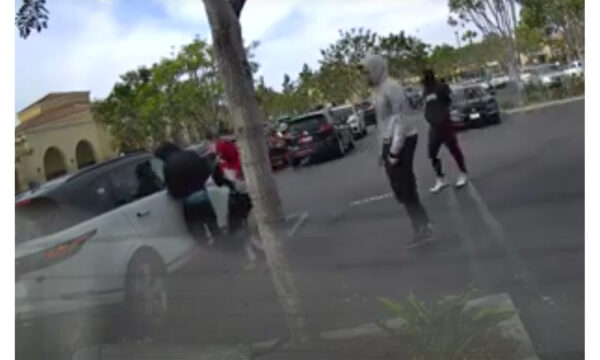 No arrests had been made as of April 27.
All but one of the men were wearing masks, which makes the task of identifying them harder, Davies said.
A video of the incident, which was edited and posted on YouTube, has received more than 7,000 views.
Some people thought the video was a prank, because of how it was edited before being uploaded, Davies said.
"Regardless of who the victims are and who the suspects are, it's still a crime and [it was] in the middle of the day, broad daylight on a Sunday afternoon," Davies said. "That's pretty bold, I would say."
Police are asking anyone with information to contact them.