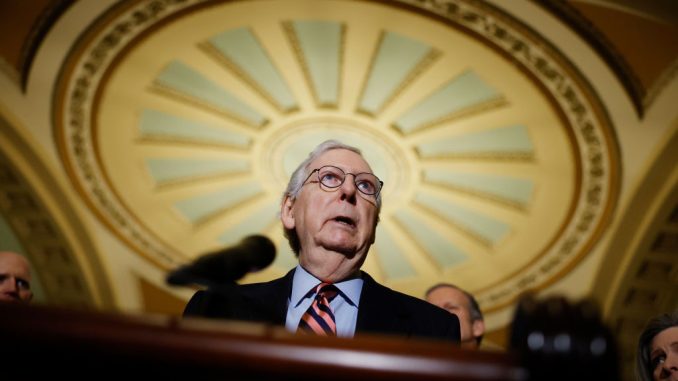 OAN Newsroom
UPDATED 11:10 AM PT – Thursday, December 23, 2021
Senate Minority Leader Mitch McConnell (R-Ky.) said Sen. Joe Manchin (D-W.Va.) feels like a man alone among Democrats. During an interview on Wednesday, McConnell said it's astonishing how the White House is basically calling Manchin a liar.
This comes after Manchin said he wouldn't vote for Joe Biden's social spending bill, stressing he serves his West Virginia constituents, not Washington. McConnell said at this point, it doesn't seem that Manchin has common ground with modern day Democrats.
McConnell also took a jab at Senate Democrats as Biden's social spending and climate change bill seems to be slipping through their fingers. He also stated in an interview that Majority Leader Chuck Schumer (D-N.Y.) likely won't let go of the nearly $5 trillion bill without a fight, despite lack of support from moderate Democrats.
McConnell described the atmosphere the Biden administration has created in the country as "terrible" and highlighted rampant inflation from Biden's so-called "American Rescue Plan" that was narrowly passed earlier this year. He went on to say he's confident the House and Senate will look very different after the 2022 midterms.
McConnell said he believes Republicans have come a long way since the beginning of the year. Meanwhile, he said the honeymoon period of the Biden administration is over.