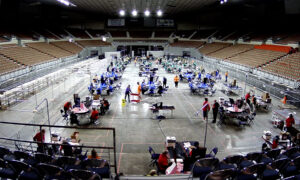 Video: Facts Matter (April 26): Maricopa County Audit of 2.1 Million Ballots Begins; Real-Time Camera Footage
James O'Keefe, the founder of Project Veritas, announced that not only is he suing Twitter, but he will also be filing a defamation lawsuit against CNN.
In Arizona, after months of legal back and forth, Maricopa County's large-scale audit of the 2020 election—which includes over 2 million ballots and close to 400 machines—is officially underway.
The attorney general of Louisiana is leading nine other states in suing President Joe Biden over his climate crises executive order.
In Michigan, a state lawmaker there was charged with driving under the influence, resisting arrest, as well as a weapons charge. However, what's really making waves is what he said during the arrest process.
Facts Matter is an Epoch Times show available on YouTube.
Follow Roman on Instagram: @epoch.times.roman
Parler: parler.com/profile/FactsMatterRoman
Telegram: t.me/FactsMatter_Roman