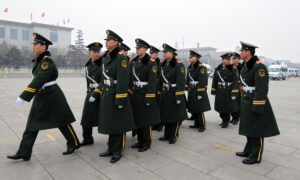 Chinese police, national security agents, and religious affairs officials raided a church in the southern Chinese city of Shenzhen on April 25, just days after one of the church's followers spoke to the U.S. State Department officials.
The raid took place on Sunday morning at Shenzhen's Trinity Gospel Harvest Church in the city's Longgang District while a worship service was taking place that was attended by about 20 people. According to Shi Minglei's Twitter posts, the Chinese officials did not present any legal document for their raid, and a pastor and some churchgoers could be seen on video footage questioning why the police broke the law to storm their church.
Eventually, 10 people—two pastors, a clergyman, and seven churchgoers—were arrested and taken to a local police station in Shenzhen.
Shi used to attend mass at the church before she and her five-year-old daughter escaped China and arrived in the United States on April 7, with the help of the U.S. State Department, the U.S. Embassy in China, and U.S.-based Christian nonprofit China Aid.
Her husband, Cheng Yuan, was the head of a Chinese non-governmental legal services organization called Changsha Funeng, which he co-founded in 2016. In July 2019, Cheng and two other members of the organization, Wu Gejianxiong and Liu Yongze, were detained by Changsha's national security agents. Changhsa is the capital of southern China's Hunan Province.
Cheng, Wu, and Liu were subsequently accused of "subverting state power," a crime the Chinese Communist Party (CCP) often uses to silence critics of the communist regime. In September 2020, they were put on a secret trial at the Changsha's Intermdiate People's Court.
In a Facebook post published on April 9, Shi explained her many ordeals after her husband was detained. One time, she was interrogated by Chinese secret police for over 20 hours while she was also accused of "subverting state power." On July 22, 2019, an unnamed Changha's national securty agent threatened Shi that her daughter would also be subjected to interrogation if she did not cooperate.
On July 23, 2019, Changsha's national security agents froze Shi's bank accounts and took away her identification documents, including her passport. Less than a month later, on Aug. 13, 2019, two Changha's national securty agents played Shi a video of her husband begging them to leave her alone.
"They wanted my daughter and I to become their hostages, hoping to silence me, and coerce Cheng Yuan into pleading guilty," Shi wrote.
On April 20, Shi took to her Twitter account to say that she and her daughter had a great meeting with U.S. State Department officials.
"I expressed our thanks and appreciation to them for their continuous attention & help," Shi wrote.
In an interview with Hong Kong newspaper Apple Daily on April 25, Shi said she suspected that Chinese authorities made the 10 arrests as a retaliatory move against her meeting with U.S. officials, since nothing like this had ever happened before at the church.
However, she explained that the church's pastors had long been under the surveillance of the Shenzhen's national security agents. The agents would call them or meet them in person.
What's more, Shi said she had received messages from her relatives still living in mainland China, telling her how they worried about her and her daughter's safety. The relative also warned her not to meet any U.S. officials again.
The 10 people who were detained have since been released, according to Bob Fu, a Chinese American pastor and founder of China Aid.