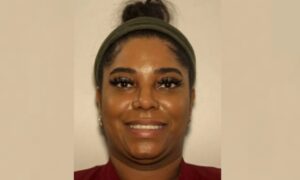 A Georgia woman was arrested after hitting three teenage fast-food workers with her car in the midst of an argument, said officials.
The Clayton County Police Department said in a news release last week that officers responded to an undisclosed fast-food restaurant about 20 miles south of Atlanta.
There, they found that there was an argument between 36-year-old Chelyria M. Palmer and the workers. Security camera footage showed the juvenile workers arguing with Palmer, who was in her car.
"Upon arrival, officers learned a verbal altercation occurred between three juvenile employees of the incident location and the customer in (the) drive-thru line," Clayton police said in the release.
When the workers walked away, Palmer drove onto the curb of the business and hit one of the juvenile workers, who was then hospitalized, officials said.
Palmer was charged with aggravated assault after being arrested, Clayton County police said.
Other details about the incident, including the ages or identities of the victims, were not provided.
According to the Atlanta Journal-Constitution, officials said the incident took place at a Zaxby's location on Tara Boulevard near Southlake Mall after 10 p.m.
Palmer was being held Friday at the Clayton County Jail. Her bond had not been set yet, and it's not clear if she has an attorney, the paper reported.
Atlanta-area fast-food restaurants have been plagued by crime and violence in recent days. In the past month alone, around Atlanta, two people were shot at the DeKalb County Cook Out, Chick-fil-A customers disarmed an alleged armed robber in midtown Atlanta, and a woman fired shots after she was choked at an area McDonald's location.