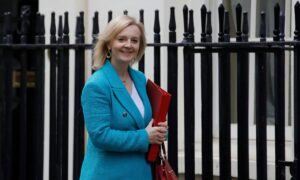 The UK and Australia have reached a consensus on the "vast majority" of the elements of a comprehensive free trade agreement, the Department for International Trade said on Friday.
"Both countries are confident that the remaining issues will be resolved, and will now enter a sprint to agree the outstanding details with the aim of reaching agreement in principle by June," said a joint statement released after two days of talks between UK International Trade Secretary Liz Truss and Australian Trade Minister Dan Tehan in London.
🇬🇧🇦🇺 Made major breakthrough on #TradeDeal with our friends and allies Australia in talks with @DanTehanWannon.

We aim to reach Agreement in Principle by June, securing a win-win deal that delivers jobs across both countries.

More 👇https://t.co/HlVz1NhTmX pic.twitter.com/xya0VoE0SU

— Liz Truss (@trussliz) April 23, 2021
Truss said "major breakthroughs" have been made and "an agreement is now in sight."
"This is a deal that will deliver for Britain and all parts of our economy. It is a win-win for both nations. It is a fundamentally liberalising agreement that will support jobs across the country and help us emerge stronger from the pandemic, strengthening ties between two democracies who share a fierce belief in freedom, enterprise, and fair play.
"We will spend the next few weeks ironing out details and resolving outstanding issues, with a view to reaching a deal by June," she said.
According to official estimates, a UK-Australia free trade agreement could add £500 million ($692 million) to British economic output over the long term.
Britain is pursuing a deal with Australia as one of the pillars of its post-Brexit strategy to build stronger commercial and diplomatic links in the Indo-Pacific region.
In February, the UK made a formal request to join the Comprehensive and Progressive Trans-Pacific Partnership (CPTPP), a landmark 11-country trade deal that includes Australia, New Zealand, Canada, Japan, Mexico, Singapore, Vietnam, Brunei, Chile, Malaysia, and Peru.
The UK government said CPTPP membership would "deepen the UK's access to fast-growing markets and major economies, including Mexico, Malaysia, and Vietnam, for the benefit of UK business."
UK trade with the group was worth £111 billion ($152 billion) in 2019, the government said.
The figure is dwarfed by Britain's trade with the European Union. In 2019, the UK exported to the EU £294 billion ($403 billion) worth of goods and services, and its imports from the EU amounted to £374 billion ($513 billion).
The UK exited the EU's single market and customs union on Dec. 31, 2020, when the Brexit transition period ended.
Reuters contributed to this report.