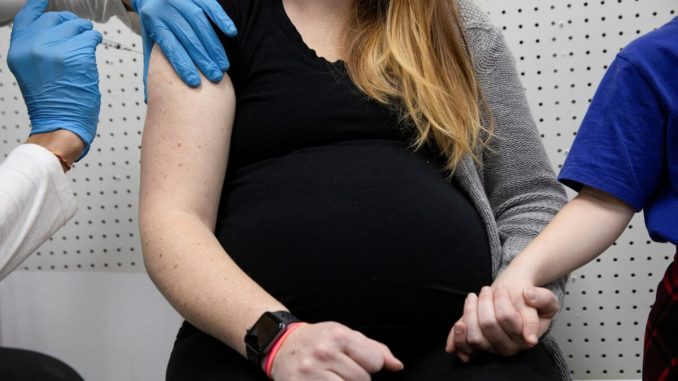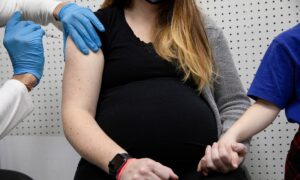 Pregnant women should get a COVID-19 vaccine, the Centers for Disease Control and Prevention (CDC) is recommending.
"CDC recommends that pregnant people receive the COVID-19 vaccine. We know that this is a deeply personal decision, and I encourage people to talk to their doctors or primary care providers to determine what is best for them and for their baby," Dr. Rochelle Walensky, the health agency's head, told a virtual briefing on Friday.
The recommendation is an update from previous guidance, which advised pregnant women that they may choose to be vaccinated but did not recommend doing so.
The shift in messaging follows preliminary findings from a CDC observational study published in the New England Journal of Medicine that found "no obvious safety signals among pregnant persons who received mRNA COVID-19 vaccines.
Two of the three shots authorized for emergency use in the United States, one from Moderna and one from Pfizer-BioNTech, are built on messenger RNA (mRNA) technology.
Researchers looked at data from the v-safe pregnancy registry and the passive Vaccine Adverse Event Reporting System (VAERS). They examined survey data for some 30,887 people who identified as pregnant in the registry and got one of the mRNA vaccines, as well as nearly 5,000 others who found they were pregnant after getting a jab.
A subset numbering 3,958 of the registry users answered questions from the v-safe registry call center. Of those, nearly 98 percent reported not having a COVID-19 infection. Another 56 had COVID-19 before vaccination while 22 contracted the illness after vaccination, including 12 two or more weeks after vaccination.
COVID-19 is the disease caused by the CCP (Chinese Communist Party) virus.
Among 827 women who had completed pregnancy, 712 gave live birth while the pregnancy ended in a "spontaneous abortion" (miscarriage) in the bulk of the other cases. Adverse outcomes among the infants who were born included 60 cases of preterm birth, 23 cases of small size for gestational age, and 16 cases of major congenital anomalies. No neonatal deaths among the live births were reported. One case of stillbirth was recorded.
Dozens of cases of post-vaccination miscarriages have been reported to VAERS. That's the most common pregnancy-specific condition reported to the passive reporting system after vaccination.
Dr. Shelley Cole, and a member of America's Frontline Doctors, previously told The Epoch Times that it's concerning that a vaccine still in an experimental phase is being recommended to pregnant and lactating women.
Proportions of pregnancy and neonatal outcomes in the pregnant women who got vaccinated appeared similar to incidences published in the peer-reviewed literature, researchers said.
"Pregnant people experienced the same side effects as others following vaccination. We were also able to follow, in detail, more than 3,900 pregnant women, and over 800 of whom have completed their pregnancies. Importantly, no safety concerns were observed for people vaccinated in the third trimester or safety concerns for their babies," Walensky told the briefing.
Limitations of the study included the fact that most people who identified as pregnant did not answer questions, the passive nature of the vaccine reporting system, and the lack of knowledge about the total number of COVID-19 vaccine doses administered to pregnant women.
However, early data indicated that COVID-19 vaccines not only protect women against the disease and its complications during pregnancy, but that they pass on antibodies to their children if they get a shot in the third trimester.
Further study on that area is ongoing by the CDC and drug regulators.
"Continued monitoring is needed to further assess maternal, pregnancy, neonatal, and childhood outcomes associated with maternal COVID-19 vaccination, including in earlier stages of pregnancy and during the preconception period. Meanwhile, the present data can help inform decision making about vaccination by pregnant persons and their health care providers," the researchers wrote.
When compared to non-pregnant people, pregnant women are at increased risk for severe illness from COVID-19, according to the CDC. However, the overall risk of severe illness is low.