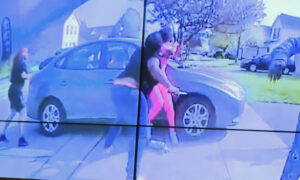 Ma'Khia Bryant's neighbor, whose security camera captured the moment the Ohio teenager was shot by a police officer, has said officers had no other choice.
Donovan Brinson watched the incident as it began to unfold on April 20 as he pulled into his driveway, which is located across the street from where the shooting took place.
The footage was captured by his garage security camera.
"They were calling each other the B-word, so I figured it was just a girl fight," he told The Columbus Dispatch on Thursday.
Brinson said the intensity of the fight increased when he was taking his dog out back. The yelling had escalated, so he went back into his home.
He claimed that Columbus police then arrived and he heard four shots, prompting his wife Rachel, to duck to the floor.
Brinson said he looked out the window of his laundry room and saw 16-year-old Ma'Khia Bryant had been shot and was lying on the ground.
The neighbor then reviewed the 26-second video from his surveillance camera and saw the glimpse of a knife and concluded that Bryant may have fatally stabbed multiple bystanders had the officer not acted immediately to stop the threat.
"It was violent and all just happened so fast," Brinson said.
He mentioned seeing a girl wearing pink who was the second female involved with Bryant in the scuffle.
Brinson, who handed his video over to police, said he believed more people might have died had police not taken immediate action.
Body camera footage released by Ohio police shows an officer approaching a driveway where a group of people are standing, soon after which Bryant, who can be seen holding a knife, appears to attack another girl, who falls to the ground.
Bryant then turns around and appears to try to stab another girl in pink clothing. The officer then opens fire at Bryant, after which she falls to the ground.
A black-handled blade resembling a kitchen or steak knife was seen lying on the sidewalk next to her immediately after she was shot and fell.
Brainson's footage—shot from much farther away than the footage released by police—shows at least seven people either in front of Bryant's foster home or emerging from inside as a police patrol car pulls up, followed by a police SUV.
During the altercation, a voice could be heard yelling "I'm gonna stab the [expletive] out of you, [expletive]" at the moment that Bryant was filmed attacking a girl with a knife.
It then shows the shooting, as seen in police body-camera footage, but from a much wider angle.
Bryant was taken to a hospital where she was pronounced dead around 5:20 p.m. local time. The incident of the shooting occurred around 4:45 p.m.
In a separate interview on Fox News's "The Faulkner Focus" on Thursday, Brinson reiterated that police had "reacted with what he thought was his best judgment."
He added that the officer "did what he thought was best" given that he only had seconds to react.
Bryant was a foster care child with Franklin County Children's Services. Her death came in the wake of the trial verdict that found police officer Derek Chauvin guilty of second-degree murder, third-degree murder, and second-degree manslaughter in the death of George Floyd, and has sparked nationwide outcry.
Nicholas Reardon, the officer identified in Bryant's killing, had been with the division for one year. He has been placed on administrative leave, pending an investigation by the Ohio Bureau of Criminal Investigation.