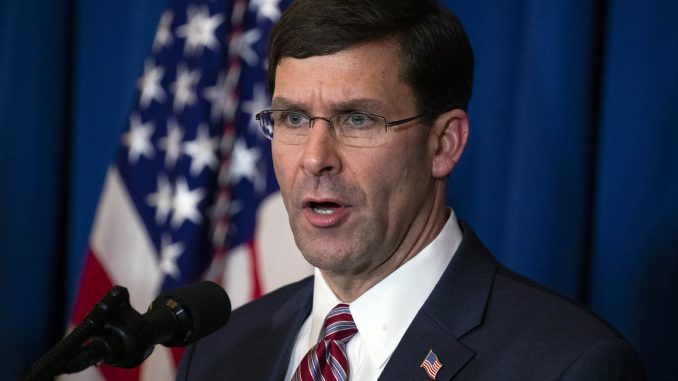 OAN Newsroom
UPDATED 10:08 AM PT – Wednesday, August 12, 2020
Two military exercises were held by the U.S. and several other countries in Eastern Europe this week.
The Defender Europe 20 was held in northern Poland Tuesday, which had U.S. and Polish troops work together. The exercise involved more than 500 U.S. soldiers accompanied by 70 armored units and were joined by a smaller detachment of Polish soldiers.
"We have built on the great successes of the Defender exercises earlier this summer and this is just the latest in the great cooperation between our two nations, proving that we are truly stronger together," stated Brig. Gen. Brett Sylvia, commanding general of the 1st Cavalry Division.
The president of Poland was present during the exercises and expressed his appreciation for Polish troops to be able to exercise with the U.S. military.
Another separate military training drill was held in Bavaria just a day before. The Saber Junction 20 drills in Hohenfels involved thousands of military personnel from nine countries and was conducted at a U.S. training grounds. The annual military exercise had the 173rd Airborne Brigade of the U.S. Army perform tactical loading procedures.
"Currently, we are conducting Saber Junction 20," stated senior trainer Phil Lam. "This is an exercise that the Department of the Army funded, but it's a United States Army-Europe mandated exercise with over 4,000 participants from eight partner nations."
The training exercises will take place throughout August and will see the U.S. joined by primarily Baltic countries.
The two military drills were held amid the ongoing COVID-19 pandemic, which for a time also raised concerns on the continuation of the exercises. They are a reflection of the U.S. efforts to bolster the presence of NATO countries in Eastern Europe against Russia.
"Look at all of the things we've done with NATO, where I've raised $130 billion a year from countries that were delinquent and now they're paying all of this money," stated President Trump.
Earlier this month, U.S. Defense Secretary Mark Esper announced the relocation of more than 5,000 U.S. troops from Germany to other NATO countries. The increased military presence in Eastern Europe also marks the effort of NATO to suppress Russian influence in the region.
Critics have said Russia may use the construction of the Nord Stream II, an oil pipeline running from Russia to Germany, to foster a grip in the region.
In 2014, Russia also annexed the region of Crimea unchallenged, which the U.S. and NATO are seemingly keen on preventing from happening again in the future.