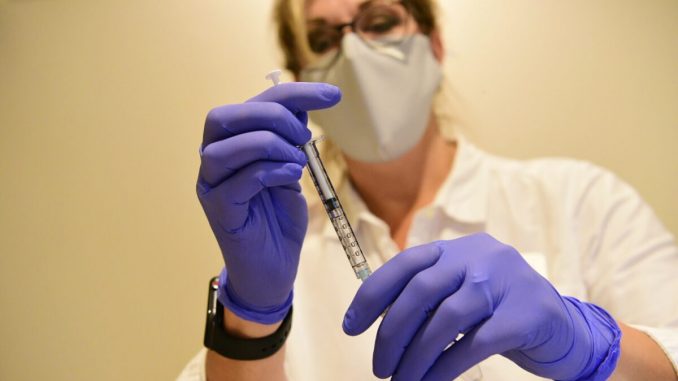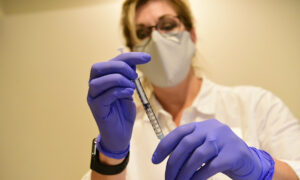 Advisers to the Centers for Disease Control and Prevention (CDC) on Friday said the Johnson & Johnson (J&J) CCP (Chinese Communist Party) virus vaccine can now be distributed with a warning.
The vaccine would carry a warning about the rare risk of blood clots in those who received it, officials with the Advisory Committee on Immunization Practices (ACIP) said.
Earlier this month, the CDC and Food and Drug Administration (FDA) recommended halting usage of the shot after several reports of blood clots out of more than 7 million J&J vaccines administered so far. All the cases involved women, including three who died and seven who remain in the hospital, officials said.
"This pause was essential to our ability to inform the public, inform physicians, and acquire more data for presentation and for analysis," said Dr. Jose Romero, chair of the CDC's committee of immunizations. The vote was 10-4 in favor of recommending the vaccine to adults who are 18 or older; there was one abstention.
The CDC panel said that the pause should be lifted as the benefits of the J&J shot outweigh the risk of developing the blood clot.
Dr. Henry Bernstein, a professor of pediatrics at the Zucker School of Medicine at Hofstra/Northwell in New York, said that Friday's "presentations and discussions have convinced me that lifting the pause on J&J's vaccine is in the best public health interest of the U.S. population."
Romero also noted that some people prefer the J&J vaccine because it requires a single shot.
"Removing a vaccine that can be given as a single dose, which is a preference for Latinos in our community, would be a detriment," he said during the panel meeting.
It's not clear, however, when the shots will be resumed. The head of the CDC, Dr. Rochelle Walensky, has the final say over whether the J&J vaccine will be used again.
The FDA will have to also alter the language on the emergency use authorization for the J&J vaccine to advise about possible risks.
How Americans ultimately handle J&J's vaccine will influence other countries that don't have as much access to other vaccination options, officials have said. In the United States, more than half of adults have received at least one vaccine dose, the vast majority with the two-shot Pfizer and Moderna vaccines.
Some critics of the CDC and FDA move earlier this month, like former President Donald Trump, said the pause was poor optics and would make Americans more distrustful of getting a vaccine. Trump also alleged that the FDA unfairly favors Pfizer and paused the J&J vaccine for "political purposes."
The Associated Press contributed to this report.