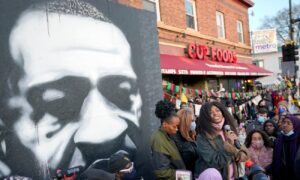 Far-left activists who have occupied Minneapolis' George Floyd "autonomous zone" for nearly a year are allegedly refusing to leave unless their list of 24 demands is met.
The group of protestors have taken up an area surrounding the intersection of East 38th Street and Chicago Avenue, where Floyd took his final breath on May 25, 2020.
Protestors have shared a list of their demands online. They include recalling Hennepin County Attorney Mike Freeman, firing several employees of the Bureau of Criminal Apprehension, requiring law enforcement officers to maintain private, professional liability insurance, and providing accountability and transparency of several cases.
The group is also asking for $400,000 to be invested into the George Floyd Square Zone through the neighborhood associations to create new jobs for young people, which will help deter violence, and a further $300,000 investment into the George Floyd Square Zone through the neighborhood associations to provide "Undoing Racism" training for the black community.
Other demands include dropping charges against non-violent protesters from 2016-2017 and continuing the closure of the "autonomous zone" until after the trial of the four officers charged for the murder of George Floyd.
Protestors have allegedly threatened to "expand" and create new zones if their demands aren't met, according to journalist Andy Ngo.
George Floyd Square has been closed since late May and the corner has become a makeshift memorial to Floyd. The area has been blocked by barricades and activists allegedly do not allow police inside the zone.
A sign has also been erected inside the memorial with special rules for white people, asking them to "decenter" themselves and to "be mindful of whether your volume, pace, and movements are supporting or undermining your efforts to decenter yourself," among others.
A Twitter account that claims to post on behalf of the zone, Twin Cities Encampment Responders, posted on Wednesday, "We don't need the mayor's permission to make decisions about our city. 38th & Chicago will be held until our demands are met."
In February, city leaders said that the intersection would reopen after the trial of white former Minneapolis police officer Derek Chauvin.
Neighbors told the Washington Times that they have tried working with protesters, and asked that traffic not be disrupted but were met with threats from activists.
Earlier this month, the city of Minneapolis passed a $1 million bailout plan for businesses suffering from inside of the autonomous zone, the Minneapolis Star Tribune reported.
Floyd, a 46-year-old Black man, died after Chauvin held his knee against Floyd's neck and back for approximately nine-and-a-half minutes as Floyd laid handcuffed and face-down on the pavement and despite his repeated shouts that he could not breathe.
On Tuesday, Chauvin, 45, was found guilty of second-degree murder, third-degree murder, and second-degree manslaughter.
The former officer is being kept isolated in prison as he awaits sentencing following his conviction, which is scheduled to take place in eight weeks.