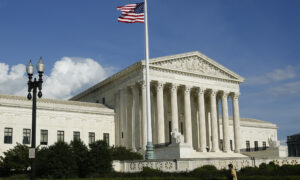 The Supreme Court ruled 6-3 this morning against Brett Jones, a man convicted of committing murder when he was 15, finding his sentence of life imprisonment without parole does not violate the Eighth Amendment's prohibition on cruel and unusual punishments.
The decision came April 22 in Jones v. Mississippi, court file 18-1259.
Justice Brett Kavanaugh wrote the majority opinion, in which Chief Justice John Roberts, as well as Justices Samuel Alito, Neil Gorsuch, and Amy Coney Barrett joined. Justice Clarence Thomas filed a separate opinion concurring in the judgment.
Justice Sonia Sotomayor filed a dissenting opinion, in which Justices Stephen Breyer and Elena Kagan joined.
Since Jones committed his crime in 2004, the case law on juveniles receiving life sentences without parole has evolved. In 2005, the Supreme Court ruled in Roper v. Simmons that executing individuals who were under 18 when they committed their crimes violated the Eighth Amendment.
Two subsequent Supreme Court precedents, Miller v. Alabama (2012) and Montgomery v. Louisiana (2016), fleshed out jurisprudence on the issue.
In Miller v. Alabama, the court held that "mandatory life without parole for those under the age of 18 at the time of their crimes violates the Eighth Amendment's prohibition on 'cruel and unusual punishments.'"
After that ruling, at a new sentencing hearing, a state court heard evidence that Jones had an abusive childhood and rehabilitated himself in prison, but still determined he was not eligible for parole.
Then, in Montgomery v. Louisiana, the high court held that the Miller ruling "announced a substantive rule of constitutional law" that must be given "retroactive effect."
Jones went back to court in the hope those new Supreme Court rulings would work in his favor but lost.
In the new majority opinion, Kavanaugh rejected the argument advanced by Jones and by Sotomayor in her dissent that the Miller and Montgomery rulings created "an additional constitutional requirement that the sentencer must make a finding of permanent incorrigibility before sentencing a murderer under 18 to life without parole."
In those rulings, the Supreme Court "unequivocally stated that such a finding is not required." This court opinion "should not be construed as agreement or disagreement with the sentence imposed against Jones," he added.
In her dissent, Sotomayor wrote that the high court "guts" the Miller and Montgomery rulings.
Referencing the Miller decision, she wrote that "A sentencer must actually 'make the judgment' that the juvenile in question is one of those rare children for whom [life without parole] is a constitutionally permissible sentence."
This is a developing story. It will be updated.