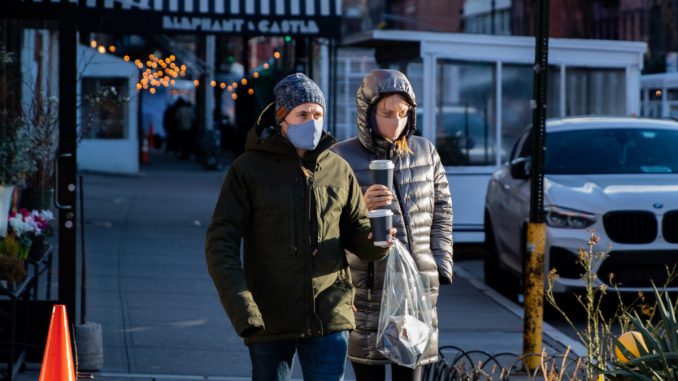 The Centers for Disease Control and Prevention (CDC) is "looking at" whether people should continue to wear masks outdoors amid the pandemic.
"This is a question that we're looking at," CDC Director Dr. Rochelle Walensky said on the "Today" show when asked about the matter. "One of the things I think that's really important to understand is, while there's wonderful news and we're getting more and more people vaccinated every single day, we still had 57,000 cases of COVID yesterday, we still had 733 deaths.
"And so now, we are really trying to scale up vaccination. We have this complex message that we still have hot spots in this country. And we will be looking at the outdoor masking question but it's also in the context of the fact that we still have people who are dying of COVID."
Show host Samantha Guthrie then asked, "I understand this is really complicated, but if people are getting vaccinated but they still have to wear masks—they're outside in the fresh air and the warm weather but the CDC is still saying, 'Well you should probably wear your masks'—What's the incentive? Isn't part of this part of a reward thing where, 'Do the right thing and you'll be rewarded?' Do you balance that at all when you're making these decisions about the guidance that you give?"
Walensky responded, "We absolutely do and as we look at the guidance to revive—the guidance of what you can do when you're vaccinated, that will be easier and easier to do as more and more people get vaccinated."
The CDC's guidance for wearing masks, updated on April 19, advises, "Masks may not be necessary when you are outside by yourself away from others, or with people who live in your household." The guidance notes that some areas in the United States may have mask mandates while out in public.
The agency said it generally recommends that people should wear masks "in public settings, at events and gatherings, and anywhere they will be around other people," as well as on any public transportation.
The CDC in another guidance updated April 2 noted that people who have been fully vaccinated against COVID-19 should "keep taking precautions" in public spaces, such as wearing a mask, staying six feet away from others, and avoiding crowds.
COVID-19, the disease caused by the CCP (Chinese Communist Party) virus, is known to spread mainly via respiratory droplets that a person exhales. When the respiratory droplets are inhaled by another person, or is somehow deposited into the other person's mucous membranes that line the inside of the nose and mouth, infection may occur. The droplets can range in size, and small droplets "can also form particles when they dry very quickly in the airstream," according to the CDC.
If the small droplets and particles manage to remain in the air for minutes to hours, COVID-19 can be spread via airborne transmission, and affect another person who is further than six feet away from the infected person. Only N95 masks protect against smaller particles.
The disease is less commonly spread through touching contaminated surfaces.
A review in the The Journal of Infectious Diseases published in November 2020 found that the likelihood of spreading the virus indoors was 18.7 times higher than outdoors, and that less than 10 percent of reported global CCP virus infections occurred outdoors.
Currently, 26 U.S. states, as well as the District of Columbia and Puerto Rico, require people to wear masks in public. A total of 13 states have lifted their mask mandates.