The foreign ministers of Australia and New Zealand (NZ) met in person for the first time in Wellington on Thursday for their biannual consultations to discuss ways to strengthen the countries' trans-Tasman ties.
The meeting came days after NZ Foreign Minister Nanaia Mahuta said the Ardern government was "uncomfortable" with the Five Eye's intelligence-sharing alliance expanding to "the human rights space."
Following the meeting, Australia's Foreign Minister Marise Payne gave no public indication about whether they directly discussed those comments, choosing instead to praise the "enduring and continuing" relationship between the nations.
However, the pair did clarify their stance on the Five Eyes to reporters.
Payne said that all Five Eyes members share the view that it is a vital strategic alliance that is key to each country's security and intelligence interests.
"A lot of issues with which we deal are dealt with in the shadows, but not all, and some have been able to be dealt with openly and publicly through the Five Eyes process," Payne said.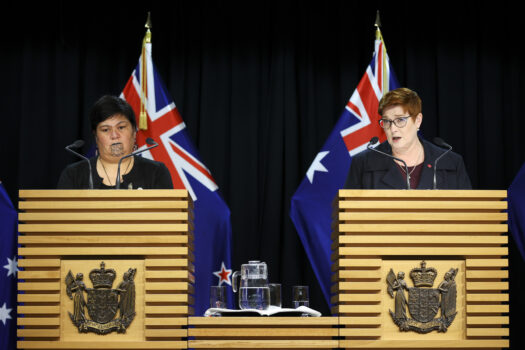 Meanwhile, Mahuta clarified her comments to reporters from earlier in the week at the New Zealand China Council, suggesting that the Five Eyes arrangement should be limited to a security and intelligence framework, not branching into areas that involve human rights.
"It's not necessary all the time on every issue to invoke Five Eyes as your first port of call, in terms of creating a coalition of support around particular issues in the human rights space," she said.
Before the meeting, Payne told ABC radio that Australia would continue to emphasise the importance of the group.
"In terms of the Five Eyes, what I have found in the last year in particular and certainly in the last little while, is a very significant level of engagement across counterparts," she said prior to meeting with Mahuta.
The Five Eyes alliance—which comprises Australia, Canada, New Zealand, the United Kingdom, and the United States—was formed in the 1940s as an intelligence-sharing network.
However, in recent years the network has been leveraged to discuss and align on other pressing issues, including the economy, defence, Big Tech regulation, and foreign relations.
The Five Eyes most notably issued a joint statement condemning Beijing on its takeover of Hong Kong.
Alexander Gillespie, professor of international law at the NZ University of Waikato, said the group was critical as geopolitical tensions continue to rise.
"It is a multi-generational arrangement that is larger than any one political party," he told The Epoch Times. "Moreover, while it grew into current form with the first Cold War, if current trajectories with China continue, it will be more necessary than ever, with a second Cold War."
The bilateral foreign minister-level talks were held a day after Payne terminated four agreements between the Victorian government and foreign countries, including Iran, Syria, and China.
Two of those agreements were signed between Victorian Premier Daniel Andrews and Beijing's National Development and Reform Commission under the auspices of the Belt and Road Initiative (BRI).
In cancelling the arrangements, Payne said they were "inconsistent" with Australia's foreign policy.
Liberal Senator Eric Abetz said the decision to enter the agreements with Beijing was "foolhardy" and would be leveraged as a form of economic coercion by the Chinese Communist Party (CCP).
"Victoria's arrangements with the CCP to establish a BRI in Australia should never have occurred, and Australia must do everything in its power to prevent such overt forms of foreign interference from ever being considered in this country ever again," he told The Epoch Times.
"Foreign interference is a major issue for both Australia and NZ, and our nations cooperate where necessary to preserve national and international security."
Former Labor leader Bill Shorten, who previously supported the Victorian premier signing up to the BRI, now agreed the Morrison government had made the right decision.
"We wouldn't have signed the arrangements either if we were in government," Shorten told Nine's Today show on Thursday.
Meanwhile, Michael Shoebridge of the Australian Strategic Policy Institute has warned that NZ will struggle to walk the geopolitical tightrope between democratic allies and Beijing.
"They will find that their policy framework collides with their values and interests, even if its purpose is to protect NZ's China trade," he told The Epoch Times.
"Quietly assuring Five Eyes partners everything is fine, while also assuring Beijing of the same thing, is not sustainable unless China radically changes direction under Chinese leader Xi."
Last year, Chinese Global Television Network (CGTN) reported that the NZ government planned to upgrade its free trade agreement with China via the BRI framework.
Gao Feng, a spokesperson from the Chinese Ministry of Commerce, reportedly announced the news at the virtual China–New Zealand Joint Committee of Trade and Economy meeting on Sept. 23, 2020.
The upgrade aimed to deepen cooperation in infrastructure, agriculture, and tourism, Gao said. CGTN reported that New Zealand and China would also maintain communication on research, medicine, and vaccine development.