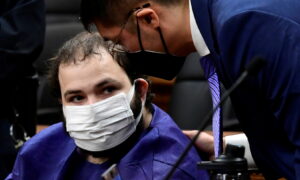 Prosecutors on Wednesday charged a 21-year-old man accused of fatally shooting 10 people at a Boulder, Colorado, supermarket last month with nearly four dozen additional counts of attempted murder, assault, and weapons offenses, court documents showed.
Ahmad Al Aliwi Alissa was already charged with 10 counts of first-degree murder and one count of attempted murder stemming from the March 22 shooting rampage at the King Soopers grocery store in Boulder, about 28 miles northwest of Denver.
Alissa surrendered to law enforcement officers at the crime scene, about two miles from the University of Colorado's flagship campus, after he was wounded in an exchange of gunfire with police, authorities said.
Witnesses and law enforcement officers said Alissa arrived at the store in the early afternoon and began opening fire on people outside before entering the building and continuing to shoot.
Ten people were killed in the massacre, including responding Boulder police officer Eric Talley and several supermarket employees. Authorities have not disclosed a possible motive for the shootings. Colorado's governor has said there is no tie to terrorism.
"We too want to know why, why that King Soopers, why Boulder, why Monday. And unfortunately, at this time we still don't have those answers," Boulder Police Chief Maris Herold told reporters last month.
Prosecutors on Wednesday added 33 counts of attempted murder, one count of first-degree assault, and 10 counts of possession of a large-capacity ammunition magazine, which is illegal under Colorado law.
Authorities earlier said Alissa legally purchased a semi-automatic Ruger AR-556 pistol that he used in the attack from a gun store in Arvada.
Alissa also possessed a 9 mm handgun but authorities do not think he fired any shots with it during the rampage.
The attempted murder charges name 18 victims, including many police officers, under different theories of extreme indifference and deliberation.
Alissa is being held without bond at an undisclosed lockup. He was transferred from the Boulder County jail "due to safety concerns and threats," the sheriff's office has said.
If convicted of even one count of first-degree murder, Alissa faces a mandatory prison sentence of life without the possibility of parole.
Alissa will not under any circumstance be executed, because Colorado Gov. Jared Polis, a Democrat, last year signed a bill to repeal the state's death penalty.
The state public defender's office, which represents Alissa, does not publicly comment on its cases, but one of his lawyers requested at his initial hearing that Alissa undergo a mental health assessment.
"Our position is that we cannot do anything until we are able to fully assess Mr. Alissa's mental illness," defense lawyer Kathryn Herold told a judge last month.
The nature of the illness wasn't disclosed.
The next hearing in the case is scheduled for the morning of May 25. The status hearing will see the judge determine the next steps in the case.
Prosecutors plan to hold a press conference on the case on Thursday.
Boulder District Attorney Michael Dougherty has cautioned against any expectations that the case will proceed quickly.
"It will be a lengthy court process. In every murder prosecution, the process takes at least a year for us to complete. I anticipate that that will be the same in this case," he told a press conference on March 26.
Reuters contributed to this report.