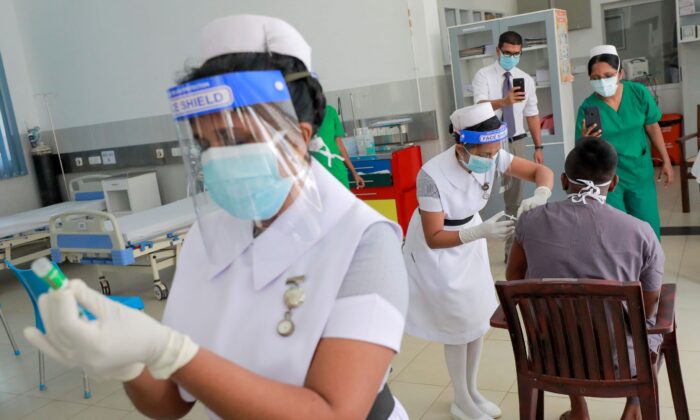 A health official receives a dose of AstraZeneca's COVID-19 vaccine manufactured by the Serum Institute of India, at Infectious Diseases Hospital in Colombo, Sri Lanka, on Jan. 29, 2021. (Dinuka Liyanawatte/Reuters)
NEW DELHI—Sri Lanka has found six cases of blood clots among recipients of the AstraZeneca COVID-19 vaccine, three of whom have died, Health Minister Pavithra Waniarachchi told parliament on Wednesday.
Nearly a million people, 925,000 of the country's 21 million population, have been given the first dose of the Indian-made vaccine in the country. No announcement of any halt to the vaccination program has been made.
Waniarachchi has received the vaccine, which were donated by the Indian government.
By Waruna Karunatilake. The Epoch Times contributed to this report.