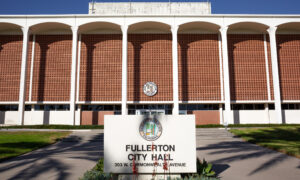 Fullerton city council is moving to tighten its existing short term rental (STR) rules by forbidding the practice in cases where the homeowner is not present during the rental period.
During its April 20 meeting, council moved to prohibit whole-house STRs with a 3-2 vote. It will conduct a second reading of the amended ordinance during its next meeting.
"It's a bad day for property owners in Fullerton," Mayor Pro Tem Nick Dunlap, one of two dissenting votes, told The Epoch Times on April 21.
"This is just a total infringement on property rights."
STRs are defined as rental properties of less than 30 days. They are often used for vacation purposes as an alternative to hotels.
Whole-house STRs don't require the owner to be on the premises of the property during the rental period.
The city's earlier short-term rental housing ordinance went into effect last December. It allowed up to 325 whole-house rental permits, and unlimited home-sharing permits. It required owners to register STRs and pay a permit fee to the city and a transient occupancy tax.
Soon after the ordinance's effective date, a hotel and restaurants union threatened litigation, claiming the city did not follow the California Environmental Quality Act (CEQA).
Many of the union members are hotel and restaurant workers, and the STRs provide competition for vacation rentals.
As a result of that legal threat, city council directed staff to amend the ordinance to settle the legal challenge.
The amendments would prohibit whole-house STRs, as well as ensure the property owner's presence to monitor the behavior of the renters and respond to neighborhood complaints. The ordinance continues to allow home-sharing STRs to operate.
The planning commission was presented with the recommended amendment during its March 31 meeting, and rejected the proposal.
"They were worried about restricting the property rights for people that wish to use their properties for whole-house short term rentals," community and economic development director Matt Foulkes said during the April 20 council meeting.
"They pointed to the fact that nearly 80 percent of the short-term rentals that are currently operating in the city are whole house. Secondarily, they have some concerns about taking an action to amend the municipal code just to settle threat of legal action by an attorney firm that's representing a labor group."
If the amended ordinance is finalized, whole-house rentals currently operating within the city will have one year to either convert to a home sharing STR, or cease their STR.
Councilmember Fred Jung said he approved getting rid of the whole-house STRs in order to promote quality of life.
"It's just a fundamental belief that I have, that you should know your neighbor," Jung told The Epoch Times on April 21.
"Rent it long term to somebody that can be there and establish themselves in the community."
Jung's concern with whole-house STRs is their risk of becoming a "party house" and causing the surrounding neighbors' problems with parking and trash, since there is less accountability if someone rents short term.
Jung said he would have wanted to ban whole-house STRs regardless of the lawsuit.
"The tactic that everybody has these days to stop development, to stop … ordinances [is] to file a lawsuit," Jung said. "And as an elected official, we deal with a number of lawsuits, but that wasn't a consideration for me at all."
"Long before I ever was elected to council, when I was stopped and asked about this, I opposed it," he said.
Jung said this is not government overreach, but an ordinance that is "in the best interest of the public."
"You don't have the capacity to do everything you want on your property just because it's your property," he said. "For instance, you can't build a patio on your property without getting a permit."
Dunlap said the original ordinance that allowed for whole-house STRs was in the works for five years, and was a "balanced policy" that could "generate some revenue for the city."
Dunlap said the threat of lawsuit was a "power move" on part of the union to restrict Fullerton property rights.
The 325 whole-house STRs make up less than one percent of all of the city's available housing, he said.
He said the issues with quality of life were kept in check via a 24/7 app and hotline that was available to report issues with these whole-house STRs.
"The reality is there was something robust in place that actually respected property rights and instead they got something that really infringes upon property rights," Dunlap said.
Mayor Bruce Whitaker said during the council meeting that he was opposed to the amended ordinance because the city has a low number of whole-house STRs.
"If all those properties are sold as long-term residents for people, it would have such a negligible effect on property values," he said.
Whitaker said this is also an issue of restricting a modern economy and sending a message with unintended consequences.
"It seems to me that when we foreclose options like that, what we're doing is putting a wall around Fullerton and saying: 'Stay out. This is our place. If you don't belong here, keep away.'"