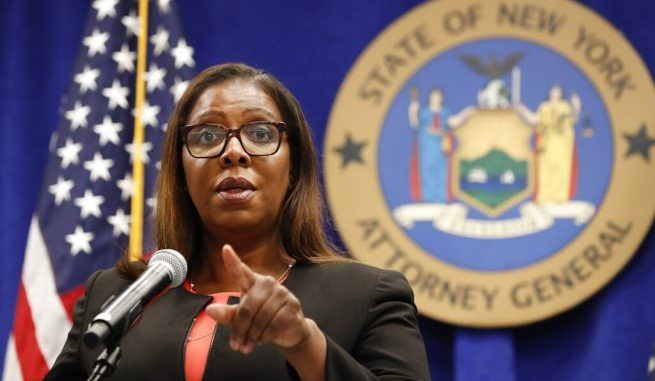 OAN Newsroom
UPDATED 12:45 PM PT — Thursday, August 6, 2020
New York is attempting to dissolve the National Rifle Association following investigations of fraud within the organization.
On Thursday, Attorney General Letitia James filed a lawsuit against the NRA. The filing claimed the association had misused upwards of $64 million for personal gain and awarded contracts to friends with special permissions.
President Trump has since commented on the lawsuit. He suggested the NRA move their operations to Texas.
"I just heard about that. That's a very terrible thing that just happened. I think the NRA should move to Texas and lead a very good and beautiful life. …This has been going on for a long time. They've been absolutely decimated by the cost of that lawsuit, and it's very sad, but I would suggest that is what they should be doing." – Donald Trump, 45th President of the United States
On Twitter, he added the "radical left New York is trying to destroy the NRA."
Just like Radical Left New York is trying to destroy the NRA, if Biden becomes President your GREAT SECOND AMENDMENT doesn't have a chance. Your guns will be taken away, immediately and without notice. No police, no guns!

— Donald J. Trump (@realDonaldTrump) August 6, 2020
Meanwhile, the president of the NRA has dismissed the suit as a "baseless, premeditated attack on the organization and the Second Amendment."
(1/3) NRA PRESIDENT RESPONDS TO NY AG:

This was a baseless, premeditated attack on our organization and the Second Amendment freedoms it fights to defend. You could have set your watch by it: the investigation was going to reach its crescendo as…

— NRA (@NRA) August 6, 2020
(3/3) Our members won't be intimidated or bullied in their defense of political and constitutional freedom.

As evidenced by the lawsuit filed by the NRA today against the NY AG, we not only will not shrink from this fight – we will confront it and prevail.

— NRA (@NRA) August 6, 2020