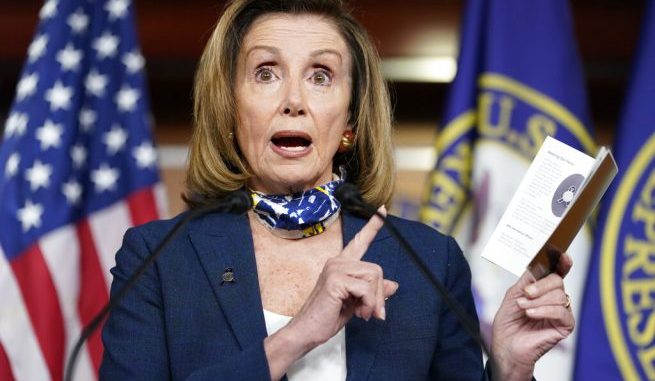 OAN Newsroom
UPDATED 7:00 PM PT – Friday, September 11, 2020
Tensions rose this week between the White House and congressional Democrats amid stalled coronavirus aid talks. President Trump slammed House Speaker Nancy Pelosi and Senate Minority Leader Chuck Schumer on Twitter.
On Friday, he said they want "trillions of dollars of bailout money for blue states that are doing badly, both economically and in terms of high crime."
Pelosi and Schumer want Trillions of Dollars of BAILOUT money for Blue States that are doing badly, both economically and in terms of high crime, as a condition to making a deal on stimulus – But the USA is coming back strong!

— Donald J. Trump (@realDonaldTrump) September 11, 2020
According to the President, Democrats have been using these terms as a condition for negotiating a new stimulus deal.
In the meantime, Senate Majority Leader Mitch McConnell has expressed doubt that Congress will be able to compromise on another round of COVID stimulus. On Friday, McConnell said lawmakers have been in a "challenging period" and reiterated negotiations don't look good at the moment.
This came after Senate Democrats blocked a GOP stimulus bill earlier this week. The unsuccessful vote led many Republican lawmakers to raise skepticism about the chances of an agreement before November.
Democrats want a sweeping bill and have argued the GOP isn't going far enough. Sen. McConnell has attributed the ongoing gridlock to the upcoming election.