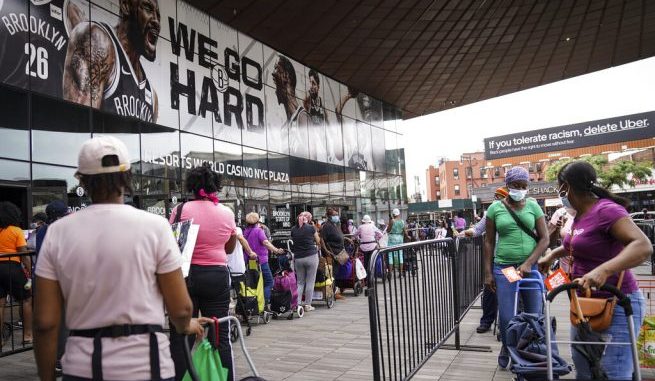 OAN Newsroom
UPDATED 6:15 PM PT – Friday, September 11, 2020
A major hunger relief organization in New York City distributed food to at least 500 families on Thursday. This comes as many in the city are still struggling to find work amid the coronavirus pandemic.
Officials from the Food Bank for New York City spoke with reporters this week.
"So, year to date, we typically distribute about 10 million meals at this point," explained food bank President Janis Robinson. "We have already tripled that."
Today, we provided 580 families with fresh produce, shelf-stable items, and @tillerandhatch prepared meals. We also registered new voters and helped clients complete the census. A great day all around! pic.twitter.com/FlnuqZ8vLV

— Food Bank For New York City (@FoodBank4NYC) September 11, 2020
So far, the food bank has reportedly distributed 30 million meals, which mostly consist of shelf stable food and fresh produce.
"Sadly, New Yorkers are still struggling," added Robinson. "People are unemployed, they're still having a need for food, and their children are being kept home, …so the need is only increasing."
Many in line stated they couldn't make ends meet without the help of donations, especially without the additional $600 in weekly unemployment benefits. The enhanced benefits expired July 31st after Congress failed to pass an extension.
"I prefer working than have to be sitting there collecting a check every week, but you know, it helps," said food bank recipient Kendall Howell. "Now that we're not getting nothing at all, I don't know how I'm going to pay my bills."
In the meantime, President Trump has indicated he will take executive action in order to extend federal unemployment benefits.