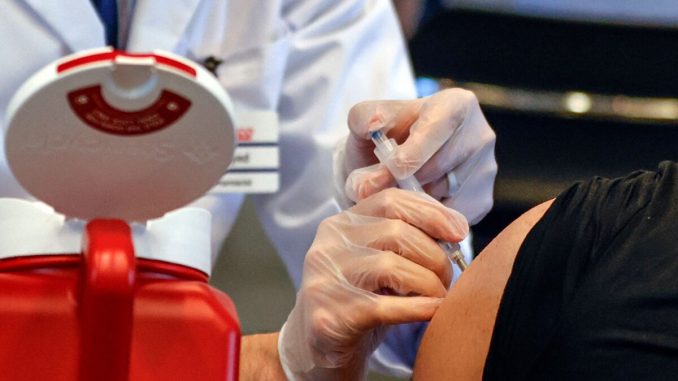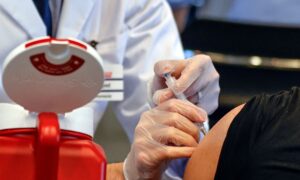 Twenty-two people in skilled nursing homes in Chicago have tested positive for COVID-19 two or more weeks after being fully vaccinated against the virus that causes it, officials disclosed on Wednesday.
Out of 627 people with confirmed infections of the CCP (Chinese Communist Party) virus in skilled nursing facilities (SNF) in the Illinois city, 12 residents and 10 staff members were identified as contracting the virus 14 or more days after becoming fully vaccinated.
People get fully vaccinated two weeks after receiving their second dose of the Moderna or Pfizer jab or the single-shot Johnson & Johnson vaccine.
Instances of people who are fully vaccinated and still get COVID-19 are described as breakthrough cases.
Out of the 22 breakthrough cases identified by the Chicago Department of Public Health officials, 14 showed no symptoms, four required hospitalization (two for reasons said to be unrelated to COVID-19), and one died.
The patient who died experienced fatigue and respiratory symptoms before being diagnosed with pneumonia. The patient tested positive for COVID-19 when being admitted to a hospital. The patient died seven days later.
The death certificate listed complications of COVID-19 infection as primary cause of death, with underlying conditions including chronic kidney disease.
No signs of secondary transmission, or the breakthrough patients passing along the virus to others, were confirmed.
"Although few SARS-CoV-2 infections in fully vaccinated persons were observed, these cases demonstrate the need for SNFs to follow recommended routine infection prevention and control practices and promote high vaccination coverage among SNF residents and staff members," researchers wrote in a report published by federal health officials.
"Whether vaccinated asymptomatic persons can transmit SARS-CoV-2 is also unknown; therefore, facilities should continue to require residents to quarantine after close contact with an infected person," they also said.
SARS-CoV-2 is another name for the CCP virus.
The time period studied was between each facility's first vaccination clinic date and March 31.
During the period, nearly 8,000 residents in the homes and 6,824 staff members were fully vaccinated.
Nationwide, some 5,814 reports of breakthrough cases were reported to the Centers for Disease Control and Prevention, a federal health agency, as of April 13. The cases were between Dec. 14, 2020, and April 13.
A spokesperson for the agency declined to provide a state-by-state breakdown of the cases, of which 396 were hospitalized and 74 died.
"To date, no unexpected patterns have been identified in case demographics or vaccine characteristics," the spokesperson said in an email, adding that the CDC continues to recommend COVID-19 vaccinations for anyone who is eligible.
S. Mark Tompkins, professor of infectious disease for the Center for Vaccines and Immunology, said he was not surprised by the number of breakthrough cases.
"No vaccine or naturally acquired immunity is 100 [percent] effective. That combined with the high level of SARS-CoV-2 infections, or circulating virus mean we will see potential break-through cases. And we are nowhere near herd immunity," he told The Epoch Times via email.
"For example, if a vaccine is 90 [percent] effective, a simple way to look at it, is a vaccinated person would be protected from 9 out of 10 potential infections. If there are a lot of infected and shedding people around you, you are likely to have many exposures to the SARS virus. This is an oversimplification but captures one of our current challenges. And it exemplifies the need to vaccinate. 90 [percent] protection is fantastic!"
Because the United States contains such a diverse population, people will respond differently to vaccines. A small number may not have robust immune responses to the vaccine they receive.
"So, they get partial protection, but imperfect. So, with lots of virus around us, they are more likely to become infected," Tompkins said. "This really drives home the reason for everyone to get vaccinated. Some will have imperfect immunity or not be able to be vaccinated."