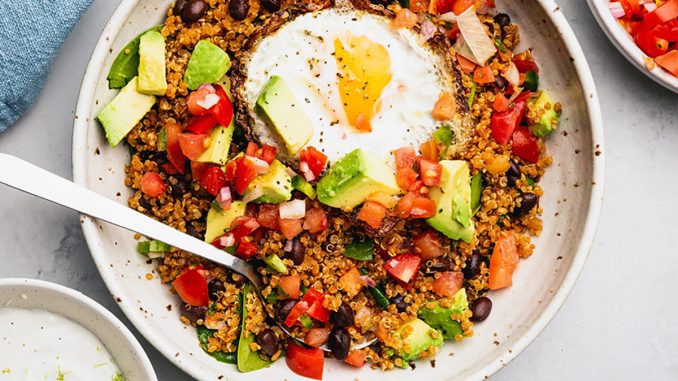 With the rare exception of pizza (I prefer plain cheese), I'm all about the toppings. Give me all the candy at the frozen yogurt shop, load up my bagel with every veggie in the store, and top my pancakes with every berry in sight, please.
Of course, my favorite way to eat all the toppings is in a big chopped salad or a hearty grain bowl (this will come as no surprise if you've been following along with my series, Tonight We Veg). Lately I've been all about taco bowls, which boast crunch and creaminess with every bite and can be filled to the brim with as many mix-ins as possible.
To create a vegetarian version, I swapped the ground beef for nutty, protein-packed quinoa, which is cooked with aromatics and chipotle in adobo sauce to give it a rich and smoky flavor. When it's done cooking, you'll stir in black beans and a few handfuls of spinach, which will begin to wilt in the residual heat.
Once you've made the base, the rest is completely customizable. In fact, you could lay out all the toppings and create build-your-own-dinner bowls, or cook the quinoa on Sunday and add new toppings each day for lunch. I like to bulk up the protein by topping mine with a fried egg, complete with crispy, lacy edges and a runny yolk that dresses the quinoa. But if you're taking lunch to go, you could prep hard- or soft-boiled eggs in advance.
Some type of salsa is a must (I prefer fresh pico de gallo, which gives you diced tomato, onion, cilantro, and jalapeño without having to do all the work), as is creamy avocado. For an extra cooling effect, I drizzle on a limey yogurt sauce, which is an impossibly easy mixture of yogurt, lime zest, lime juice, and salt.
Crumbled tortilla chips would be welcomed, as would hot sauce. If you're looking for more of a salad vibe, go ahead and add crunchy chopped romaine. And did I mention cheese? Feta or queso fresco would be divine.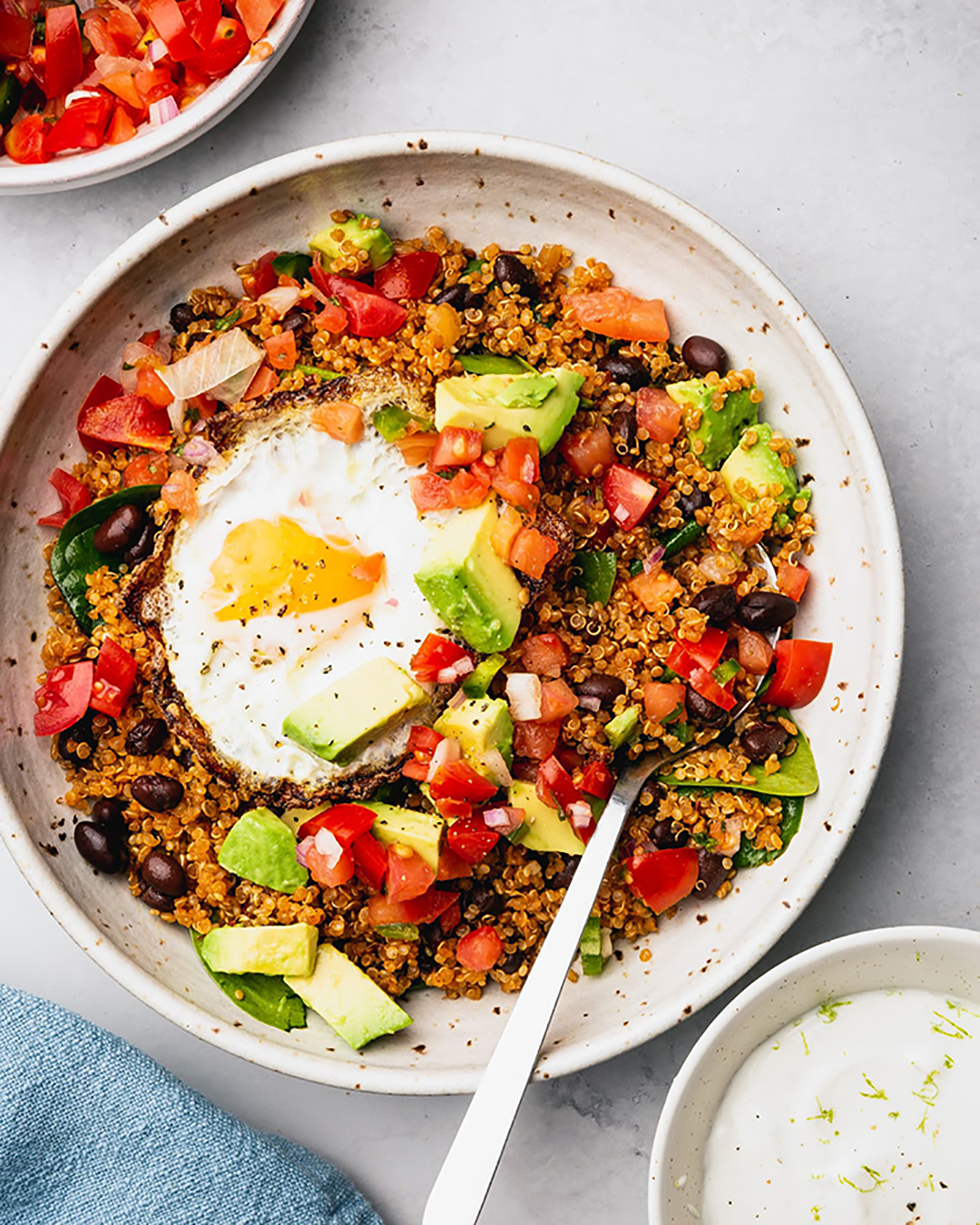 Smoky Quinoa Taco Bowls With Fried Eggs
Serves 4 to 6
1 medium shallot
4 cloves garlic
1 to 2 canned chipotle chiles in adobo sauce, plus 1 teaspoon sauce
1 cup quinoa
3 tablespoons plus 1 teaspoon olive oil, divided
1 1/4 teaspoons kosher salt, divided, plus more for seasoning
1 tablespoon tomato paste
1 1/2 teaspoons ground cumin
1 3/4 cups low-sodium vegetable broth
1 (about 15-ounce) can black beans
1 ripe avocado
1/2 cup plain 2 percent or full-fat Greek yogurt or sour cream
2 medium limes
2 ounces baby spinach (about 2 packed cups)
4 large eggs
Freshly ground black pepper
Refrigerated pico de gallo, for serving
Finely chop the shallot and mince the garlic cloves. Mince 1 or 2 canned chipotle chiles in adobo sauce until you have 1 tablespoon.
Place quinoa in a fine-mesh strainer. Rinse thoroughly under cool running water, using your hand to swish the quinoa as you rinse. Drain.
Heat 1 teaspoon of the olive oil in a medium saucepan over medium heat until shimmering. Add the quinoa and cook, stirring constantly, until any excess water has evaporated and the quinoa is very fragrant and begins to make a popping sound, 3 to 4 minutes. Transfer to a small bowl.
Heat 1 tablespoon of the olive oil in the now-empty saucepan over medium-low heat. Add the shallot, garlic, and 1 teaspoon of the kosher salt and cook, stirring frequently, until softened slightly and lightly browned, 2 to 3 minutes.
Add the chopped chipotle pepper, 1 teaspoon chipotle sauce, tomato paste, and ground cumin. Stir to coat the aromatics and cook until fragrant, about 30 seconds. Stir in the toasted quinoa (reserve the bowl) and low-sodium vegetable broth. Bring to a boil over medium-high heat, then reduce the heat to low. Cover and cook until the quinoa is tender and the liquid has been absorbed, 25 to 30 minutes.
While the quinoa is cooking, rinse and drain the black beans. Dice the avocado. Finely grate the zest of 1 medium lime (about 1 tablespoon) and add to the reserved bowl. Squeeze the juice from 2 medium limes into the bowl (about 1/4 cup). Add yogurt and the remaining 1/4 teaspoon kosher salt, and stir to combine. (If too thick to drizzle, add a tablespoon of water.)
When the quinoa is ready, remove from heat and let stand, covered, for 5 minutes. Uncover and fluff with a fork. Add the drained black beans and 2 packed cups baby spinach and stir until the spinach begins to wilt. Cover to keep warm.
Heat 1 tablespoon of the olive oil in a large nonstick skillet over medium-high heat until shimmering. Crack 2 eggs into the skillet, season with salt and pepper, and let cook undisturbed until the whites are crispy and golden-brown on the edges and set, and the yolks are runny, 2 to 4 minutes. Repeat with the remaining tablespoon of olive oil and 2 eggs.
Divide the quinoa between 4 shallow bowls. Top each one with a fried egg, avocado, pico de gallo, and a drizzle of yogurt sauce.
Recipe Notes
The quinoa can be made and refrigerated in an airtight container up to five days in advance.
The yogurt sauce can be stored in an airtight container in the refrigerator for up to seven days.
Grace Elkus is the deputy food director at TheKitchn.com, a nationally known blog for people who love food and home cooking. Submit any comments or questions to editorial@thekitchn.com. Copyright 2021 Apartment Therapy. Distributed by Tribune Content Agency, LLC.