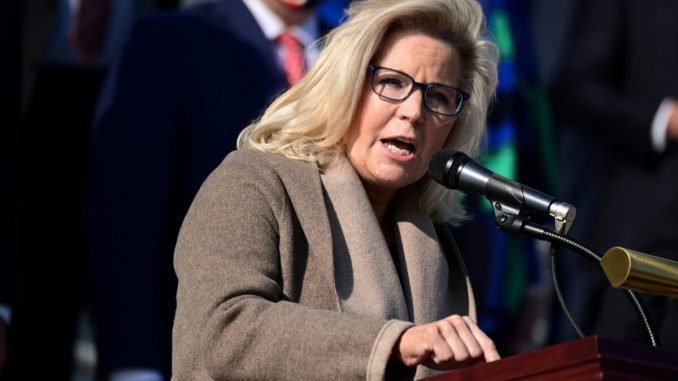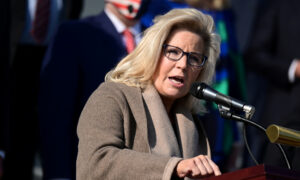 Rep. Liz Cheney (R-Wyo.) said Speaker Nancy Pelosi (D-Calif.) is wrong for not holding Rep. Maxine Waters (D-Calif.) accountable for her comments about the trial of former Minneapolis police officer Derek Chauvin, who was convicted of all three charges in the death of George Floyd on Tuesday afternoon.
"I've been really clear that no elected official should ever incite violence and she should not have incited violence. She did. The speaker's wrong in terms of not holding her accountable for that," Cheney, the No. 3 Republican leader in the House, told reporters on Tuesday.
Cheney was referring to remarks Waters made at a protest in Brooklyn Center, Minnesota, on April 17, regarding Chauvin's trial where she said protesters should get more "confrontational" if Chauvin is not found guilty.
Waters said she is "going to fight with all of the people who stand for justice" and told protesters to "stay on the street," "get more active," and "get more confrontational," if the former officer isn't found guilty. "We've got to make sure that they know that we mean business," Waters said.
When asked about Waters's comments being inappropriate and if she should apologize, Pelosi said she shouldn't.
"Maxine talked about the confrontation in the manner of the civil rights movement," Pelosi said. "I myself think we should take our lead from the George Floyd family. They've handled this with great dignity and no ambiguity or … misinterpretation by the other side. No, I don't think she should apologize."
Cheney's comments after the House on Tuesday voted down a resolution that would have censured Waters. The party-line vote saw 216 Democrats reject the resolution and 210 Republicans back it. Two members from each party did not vote.
Meanwhile, Minority Leader Kevin McCarthy (R-Calif.) condemned Waters's comments.
"This weekend in Minnesota, Maxine Waters broke the law by violating curfew and then incited violence. Speaker Pelosi is ignoring Waters' behavior—that's why I am introducing a resolution to censure Rep. Waters for these dangerous comments," McCarthy wrote on Twitter.
The judge overseeing the Chauvin trial called Waters's comments "abhorrent."
"I am aware that congresswoman Waters was talking specifically about this trial, and about the unacceptability of anything less than a murder conviction, and talk about being confrontational," said Judge Peter Cahill. "This goes back to what I've been saying from the beginning. I wish elected officials would stop talking about this case, especially in a manner that is disrespectful to the rule of law, and to the judicial branch and our function."
Cahill said Waters should have been more respectful to her oath to defend the Constitution as a member of Congress. "Their failure to do so I think is abhorrent, but I don't think it is prejudiced, with additional material that would prejudice history they have been told not to watch the news, I trust they are following those instructions," he said.
While Republicans have come out against Waters's comments, some Democrats have indirectly addressed Waters's comments.
House Democratic Caucus Chair Hakeem Jeffries (D-N.Y.) told reporters: "To be honest, I'm not that familiar with what she said, I know she made clear in comments afterward that she supports peaceful protests. Dr. King supported non-violent direct action. That is what House Democrats support."
Janita Kan contributed to this report