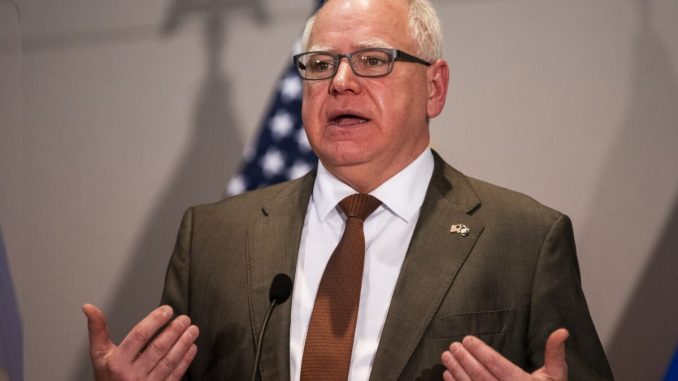 Minnesota's governor is preparing for potential unrest after the verdict is announced in Derek Chauvin's trial, with the memory of rioting in the summer of last year following George Floyd's death still fresh in many minds.
Gov. Tim Walz announced Monday that he declared a state of emergency as jurors in the trial weigh whether to convict or acquit the former Minneapolis police officer in Floyd's death.
Walz also successfully obtained $9 million in emergency funding for the law enforcement response when the state Senate passed several bills earlier in the day.
"We cannot allow civil unrest to descend into chaos. We must protect life and property," the Democrat told a press conference in St. Paul.
Walz said he understands why people are frustrated over the deaths of Floyd and Daunte Wright, another black man who was fatally shot by an officer earlier this month after resisting arrest.
"I acknowledge them that we can't live like this. We simply can't. But we can't have thousands of businesses burned and people put at risk," Walz said. "I cannot allow those businesses to burn. I cannot have people's livelihood or their safety put at play. But I will recognize what they're saying."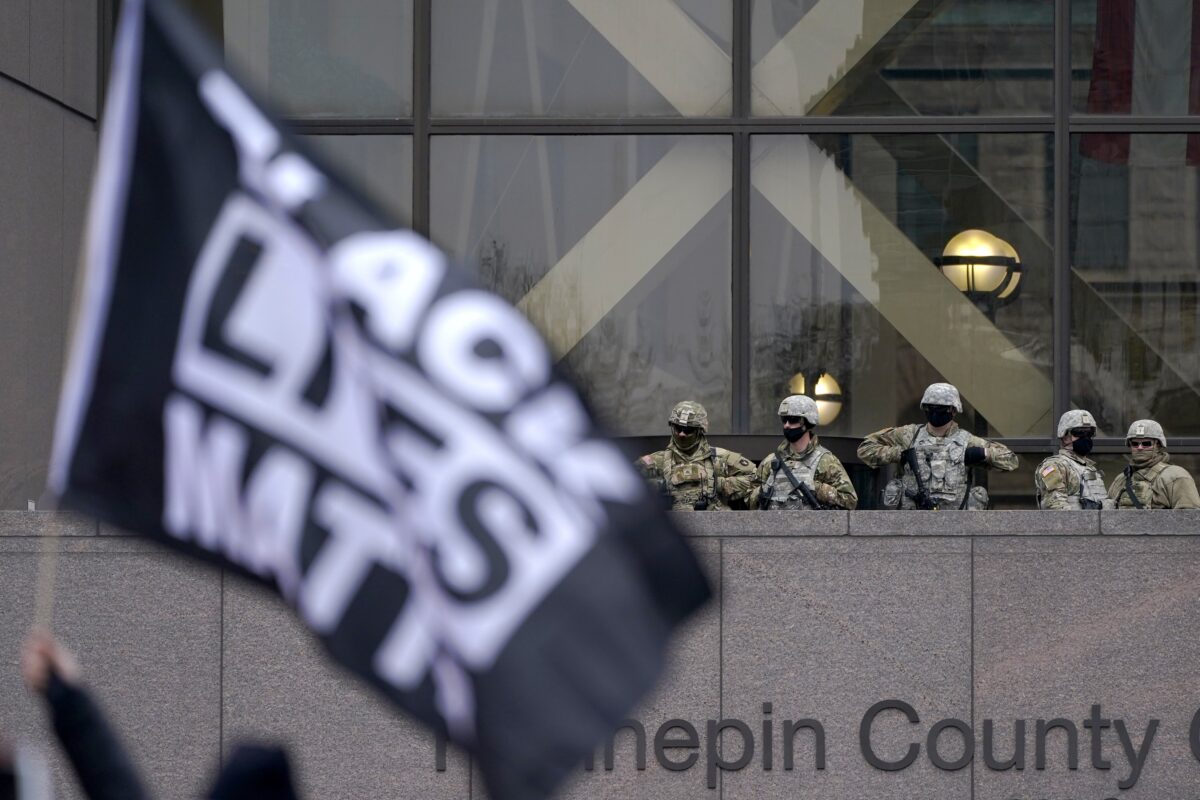 Closing arguments in Chauvin's trial took place on Monday. Afterwards, jurors were sequestered until they reach decisions on charges of second-degree murder, third-degree murder, and second-degree manslaughter.
Former officer Kim Potter, who shot Wright, was charged with second-degree manslaughter. Her next court appearance is in May.
Officials worry that after Chauvin's verdict is announced, rioting like the violence that took place last year in the wake of Floyd's death will happen again. Over 1,025 properties were damaged, burned, or destroyed during the riots, with damages totaling tens of millions of dollars.
More than 3,000 Minnesota National Guard personnel are supporting Operation Safety Net, a joint law enforcement effort to patrol protests and respond to civil unrest both before and after the verdict is reached. They're primarily focused on the Twin Cities metropolitan area.
The personnel, along with other state and local officers, are being supported by 123 state troopers from Nebraska and Ohio.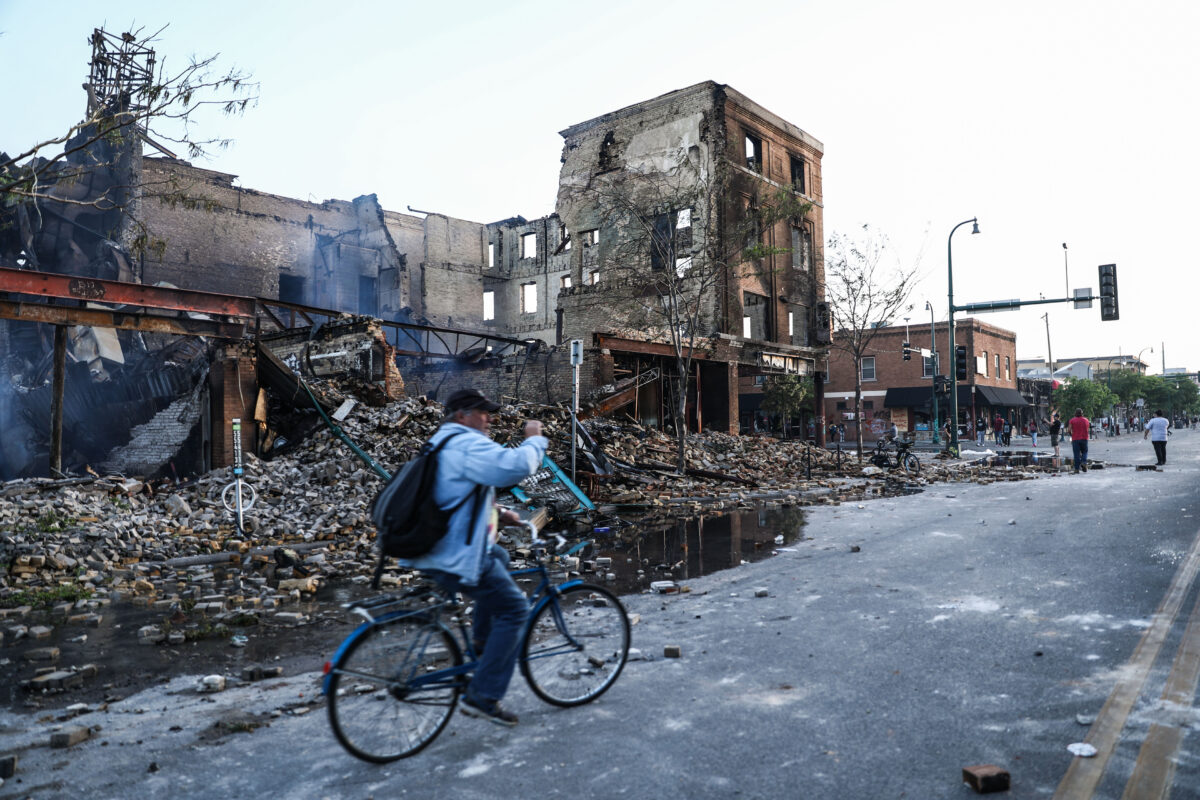 Riots took place in Brooklyn Center, a Minneapolis suburb, for several days following the April 11 shooting of Wright.
"Whatever the jury decides, we know that in this age of insurrection and extremism that we must be ready for the possibility of those who would exploit this moment and drown out the powerful voices of constructive protests across our nation with violence and destruction," St. Paul Mayor Melvin Carter told the briefing on Monday.
"Last spring, on top of the trauma of George Floyd's killing, we endured the widespread devastation of the very neighborhoods he loved. But rioting won't solve this problem. And looting won't breathe life back into the bodies of our lost loved ones. We cannot cure harm by inflicting harm on others. Protesting violence through violent means only perpetuates those same cycles we are resolved to stop. And history always remembers poorly those who seek to assert their own humanity by dehumanizing others. So as we reject the violence and aggression that took George Floyd's life, so too must we reject and do everything we can to prevent the burning and looting of our local barber shops and grocery stores, the pharmacies we rely on for life-saving medicine, and the affordable housing units our neighbors call home," he added.
Officials called for people to remain peaceful.
It would be helpful if President Joe Biden used his office to call for people to avoid engaging in violence and destruction, Walz said.
"I would hope that the president would use the authority of the White House and the compassion we've seen in President Biden to address us all and and to ask for calm," he said.
White House press secretary Jen Psaki told reporters in Washington, after dodging a question about incendiary remarks by Rep. Maxine Waters (D-Calif.), that the president "recognizes the issue of police violence against people of color, communities of color, is one of great anguish, and it's exhausting and quite emotional at times."
"His view is also that exercising First Amendment rights and protesting injustice is the most American thing that anyone can do. But as he also always says, protests must be peaceful," she added. "That's what he continues to call for and what he continues to believe is the right way to approach responding."