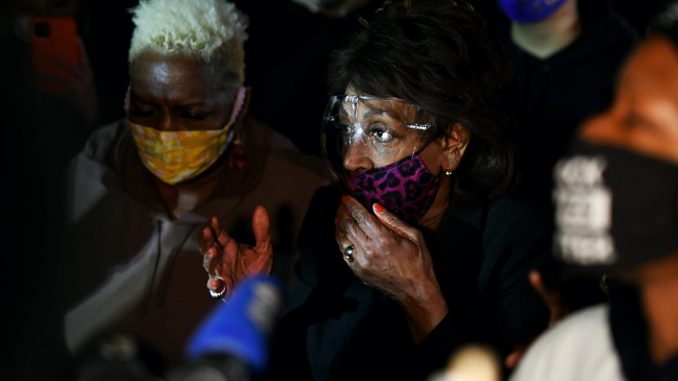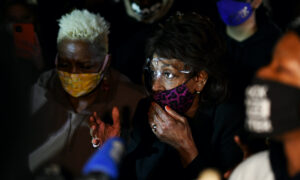 The House of Representatives on Tuesday voted down a resolution that would have censured Rep. Maxine Waters (D-Calif.).
The party-line vote saw 216 Democrats reject the resolution and 210 Republicans back it. Two members from each party did not vote.
Waters traveled to a Minneapolis suburb over the weekend and urged demonstrators to be "more confrontational" if former Minneapolis police officer Derek Chauvin were not convicted on charges in the death of George Floyd.
"We're looking for a guilty verdict," she also said.
The proposed resolution (pdf), filed by House Minority Leader Kevin McCarthy (R-Calif.), included most of Waters's remarks. It also referenced how Hennepin County Judge Peter Cahill commented on them in the courtroom, saying in part: "I wish elected officials would stop talking about this case, especially in a manner that is disrespectful to the rule of law and to the judicial branch and our function."
McCarthy charged that Waters "broke the law by violating curfew and then incited violence."
On the House floor in Washington before the vote, Democrats disputed that claim.
"Chairwoman Waters's remarks reflect the very profound anger and sense of hopelessness that she and so many others, myself included, feel when we see African-Americans being killed during encounters with our law enforcement. And their families not seeing justice," House Majority Leader Steny Hoyer (D-Md.) told colleagues.
He accused Republicans of taking Waters's remarks "out of context" to "hold a 'gotcha' partisan vote."
In a statement after the vote, McCarthy said, "Speaker [Nancy] Pelosi, and every other House Democrat, had the opportunity to condemn the violent rhetoric of our colleague Representative Waters, a chairwoman and senior member of Congress, to protesters to 'get more confrontational.'"
"Instead, they condoned it. And the House and our justice system are worse off because of it," he added.
"Every single House Democrat just voted to stand with Maxine Waters. They made it clear: Democrats are fine with Democrat politicians inciting violence and chaos," House Minority Whip Steve Scalise (R-La.) wrote in a tweet.
Pelosi had defended Waters's remarks, saying she did not need to apologize.
"Maxine talked about confrontation in the manner of the civil rights movement," Pelosi told reporters on Monday. "I myself think we should take our lead from the George Floyd family. They've handled this with great dignity and no ambiguity or … misinterpretation by the other side. No, I don't think she should apologize."