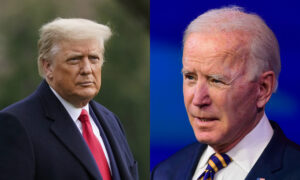 Former President Trump said in a statement that the White House should re-instate a travel ban from certain countries to defend the country against terrorism.
In January, on the day he was inaugurated, President Joe Biden announced that he would rescind his predecessor's ban that prevented certain individuals from entering the United States—first from primarily Muslim countries and then from most African countries. Trump also issued bans on travel from North Korea, Venezuela, and Burma.
"If Joe Biden wants to keep our Country safe from Radical Islamic Terrorism, he should reinstitute the foreign country Travel Ban and all of the vetting requirements on those seeking admission that go with it, along with the refugee restrictions I successfully put in place," Trump said in a statement on Monday.
The former commander-in-chief then added that "terrorists operate all over the world and recruit online."
"To keep terrorism and extremism out of our country, we need to have smart, commonsense rules in place so we don't repeat the many immigration mistakes made by Europe, and the USA prior to 'Trump,'" Trump wrote.
Trump in the memo did not elaborate on what countries that Biden should place on the list. In 2017, he initiated a ban on most people from Syria, Iran, Yemen, Somalia, Libya, North Korea, and Venezuela. The list was then broadened to include Myanmar, Eritrea, Kyrgyzstan, Nigeria, Sudan, and Tanzania in 2020.
Biden, according to a White House statement on Jan. 20, claimed that bans from mostly Islamic countries "have undermined our national security" and "have jeopardized our global network of alliances and partnerships and are a moral blight that has dulled the power of our example the world over." He did not provide an explanation as to how.
The statement from Trump on Monday may have been brought on by the Biden administration's decision to increase the refugee cap. White House press secretary Jen Psaki refuted an earlier memo that was issued saying that the administration was keeping the Trump-era cap of 15,000 refugees.
"America needs to rebuild our refugee resettlement program," Jake Sullivan, Biden's national security adviser, also wrote in a tweet last week. "We will use all 15,000 slots under the new Determination and work with Congress on increasing admissions and building back to the numbers to which we've committed."
The memo drew condemnation from left-wing members of Congress, including "Squad" leader Rep. Alexandria Ocasio-Cortez (D-N.Y.). Psaki issued a statement hours later claiming there was "some confusion" about the memo.