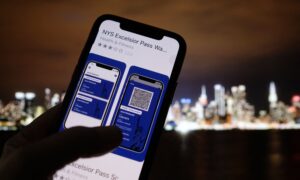 A World Health Organization (WHO) panel has recommended against requiring proof of vaccination against COVID-19 to travel to other countries.
In a statement Monday, the WHO's Emergency Committee recommended to Director-General Tedros Adhanom Ghebreyesus to avoid mandates for people to prove they are vaccinated before going into other countries.
"Do not require proof of vaccination as a condition of entry, given the limited (although growing) evidence about the performance of vaccines in reducing transmission and the persistent inequity in the global vaccine distribution," the committee's recommendation said. "States Parties are strongly encouraged to acknowledge the potential for requirements of proof of vaccination to deepen inequities and promote differential freedom of movement."
The WHO panel noted that some individuals like sailors might be blocked from entering international borders due to potential vaccination requirements.
"Special attention should be paid to seafarers who are stranded at sea and who are stopped from crossing international borders for crew change due to travel restrictions, including requirements for proof of COVID-19 vaccination, to ensure that their human rights are respected," the recommendation stated.
It comes as several areas including New York state and California have launched passport apps.
Health officials in Orange County, California, last week announced a "Digital Passport" that "enables individuals to participate safely and with peace of mind in activities that involve interactions with other people, including travel, attractions, conferences/meetings, concerts, sports, school and more."
New York state, meanwhile, launched its "Excelsior" app that is intended to do the same. The head of Erie County, New York, previously said that fans seeking to attend Buffalo Bills of Buffalo Sabres games in-person will have to provide proof of vaccination, likely via the Excelsior app.
However, civil rights groups such as the American Civil Liberties Union (ACLU) have warned against vaccine passports, saying that it could lead to possible violations of Americans' privacy while noting that certain individuals don't own or have access to a smartphone replete with a passport app.
"We don't oppose in principle the idea of a requiring proof of vaccination in certain contexts. But given the enormous difficulty of creating a digital passport system, and the compromises and failures that are likely to happen along the way, we are wary about the side effects and long-term consequences it could have. We will be closely watching developments in this area," said the ACLU late last month.
Several governors, including Republicans Ron DeSantis of Florida and Greg Abbott of Texas, have issued orders banning vaccine passports, citing privacy concerns.
COVID-19 is the illness caused by the CCP (Chinese Communist Party) virus.