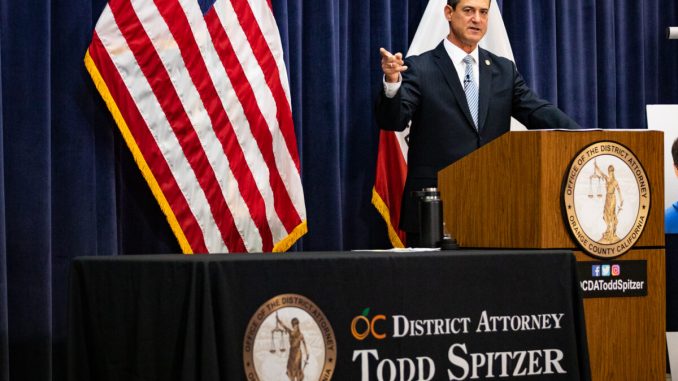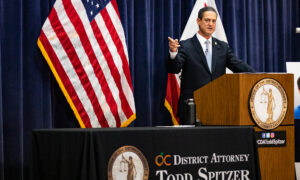 The survivor of childhood abuse, a woman attacked by her personal trainer, and the father of a murdered veteran were among those calling for an end to violent crimes April 19.
Stories of victims and survivors were shared during a Crime Victims Right's Rally in Santa Ana to remember the lives lost and altered by violence.
"We are joined together by our humanity, by our empathy, by our confliction, by love for each other and for our brothers and sisters," Orange County District Attorney (OCDA) Todd Spitzer said. "We will not allow any sources of evil to overtake our community."
Victims' family members, advocacy groups, and county officials advocating for an end to violent crimes were among those who attended the event, held in conjunction with National Crime Victims' Right's Week
Orange County Sheriff Don Barnes said that while it was important to honor victims and their loved ones, more must be done to protect the public.
"While these events are important, they're meaningless unless we also have criminal justice system that values and protects victims," Barnes said. "Recent changes in state law and new policies enacted in some local jurisdictions have removed consequences for violating the law and empower the guilty. These changes create an imbalanced justice system that overlooks the voice of the victims and perpetuates crime."
Victims and Survivors
Survivors and victims' families used the event as an opportunity to share their stories with the public.
Patricia Wenskunas, founder and chief executive of Crime Survivors, recalled the 2002 day when her personal trainer broke into her home, drugged her, and wrapped her head in saran wrap.
Her trainer threated to kill her and her son. Wenskunas was able to get away from the scene and find sanctuary at a neighbor's house.
Her attacker was charged with premeditated attempted murder, burglary in the first degree, assault with a deadly weapon, and criminal threats, Wenskunas said.
Through the legal system he served 120 days.
"I still don't understand that to this day, and I never will," she said. "Victims have a right to justice. They have a right to resources. They have a right to be heard and have a right to break the cycles of victimization, so that they too can survive."
Today as founder of Crime Survivors, Wenskunas works to provide resources and support to fellow survivors.
Los Angeles Deputy District Attorney Jonathan Hatami shared his own story of victimhood during the event.
"I am also a survivor. I'm a victim of child abuse," Hatami said. "I will always stand with you. We all deserve to be treated fairly and equally under the law. Violence and victimization affect us all. Every victim, every survivor, every family, all of us deserve justice."
Hatimi is now a child abuse prosecutor who prosecuted the murder of eight-year-old Gabriel Fernandez, who was killed by his mother and her boyfriend in 2013.
"No story should end like Gabriel's," he said. "We must make sure that we don't have generation upon generation of victims."
Certain politicians are abandoning rights of victims and survivors, Hatami said.
"We need to start putting victims and survivors ahead of criminals. Every inmate made a choice, every victim and survivor did not."
The father of Sam Herr—a 26-year-old Army veteran killed by his Costa Mesa neighbor and friend—spoke on behalf of his murdered son.
Steve Herr said that he received justice for his son's May, 2010 death after his murderer was sentenced to death row.
Herr's justice was overturned in 2019 when Gov. Gavin Newsom placed a temporary prohibition on the death penalty.
"What Governor Newsom essentially did was to tell the murderers on death row, 'I got your back,'" Herr said. "We the families of fallen victims demand that the voices of the victims should always be louder than the voices of the criminals."
A memorial to remember Orange County crime victims is to be placed outside the District Attorney's office in Santa Ana.