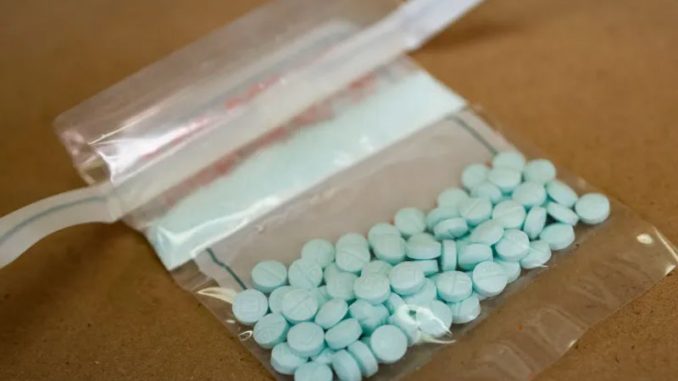 OAN Roy Francis
7:32 AM PT – Saturday, February 25, 2023
Officials in Tempe, Arizona discussed the recent investigation in the Valley, which led to large amounts of drugs being seized.
In a news conference on Friday, Arizona officials revealed that a large-scale operation had just concluded. The operation had involved the Tempe Police Department, the Drug Enforcement Agency (DEA), and the Arizona Attorney General's Office, and taken over three years to accomplish.
The operation resulted in the seizure of around 4.5 million fentanyl pills, 3,000 pounds of methamphetamine, 14 pounds of fentanyl powder, over 135 kilograms of cocaine, 35 kilograms of heroin, 49 guns, and over $2 million.
The street value of the "large-scale interagency narcotics investigation in the valley" was estimated to be over $13 million.
Interim Police Chief Josie Montenegro spoke on the drugs that were seized, explaining the impact of the drugs if they had not been seized by authorities.
"The sample you see here today is staggering," she said. "Had these seized not been made, these substances would be poisoning members of our community, including our youth and our vulnerable population."
Although no specifics were given about the operation, Cheri Oz, the Special Agent In Charge of the DEA in Phoenix, said that the main threat of drug smuggling is the Sinaloa Cartel.
"Our primary driver," she said. "Our primary threat here in Arizona is the Sinaloa Cartel. We're looking at taking out the worst of the worst, and we're focused on that regardless of where that person is located."
 Arizona Attorney General Kris Mayes said that they are at "war" with the cartel and that they will win.
 "We are not going to give up until we defeat them," Mayes said. "This is a war, and we are going to win the war against the Sinaloa Cartel."
Officials said that their work is far from over because Arizona is a major distribution site for drugs. Over half of the fentanyl pills that were seized by the DEA in 2022 were seized in Arizona.
"While busts like this don't fully solve the problem that we face," Mayes said. "Getting as many of these drugs off the streets as possible will undoubtedly save lives."