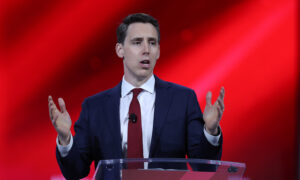 Sen. Josh Hawley (R-Mo.) introduced an antitrust bill that would ban Amazon and Google from running an online marketplace and selling goods on that marketplace at the same time.
"Big Tech companies like Google and Amazon have been coddled by Washington politicians for years. This treatment has allowed them to amass colossal amounts of power that they use to censor political opinions that they don't agree with and shut out competitors who offer consumers an alternative to the status quo," Hawley said in a statement to news outlets. "It's past time to bust up Big Tech companies, restore competition, and give power back the American consumers."
The so-called "Bust up Big Tech Act" bars firms like Amazon from selling Amazon-branded products on Amazon's market, where competitors also do business.
In a tweet, Hawley said the practice allows Amazon to destroy its competitors.
"No one company should be able to control e-commerce AND privilege its own products on the same platform AND control the cloud," he wrote, adding that "Amazon should be broken up." Hawley was making reference to a Wall Street Journal article saying the Seattle-based firm "strong arms partners using its power across multiple businesses."
"I'm willing to work with … anybody of any party and any background," Hawley also told Reuters last week about the possibility of working with Democrats in Congress.
According to a statement from his office, the Bust Up Big Tech Act would also bar Amazon from simultaneously owning a large amount of cloud computing services that other companies use while running its retail business. Amazon runs Amazon Web Services (AWS), which courted controversy earlier this year after de-platforming "free speech" social media website Parler while still hosting Parler competitor Twitter on AWS.
It came after Hawley last week unveiled a separate bill targeting other antitrust issues surrounding Big Tech. Titled the "Trust-Busting for the Twenty-First Century Act," it would ban mergers and acquisitions by firms that have a market capitalization of more than $100 billion.
Parler has since filed, dropped, and re-filed a new lawsuit against Amazon. The latest lawsuit, filed in a Washington court in early March, accused Amazon of a breach of contract, anticompetitive behavior, and a breach of contract.
The Epoch Times has contacted Amazon for comment.
In a blog post last fall, Amazon criticized what it called "fringe notions on antitrust" laws, saying they would simultaneously "destroy small businesses and hurt consumers."
Certain "flawed regulatory ideas rely on the false narrative that Amazon's interests are not aligned with those of the thousands of small and medium-sized businesses thriving as sellers in our store," said the blog post, which was written by "Amazon staff." "The opposite is true: Amazon and sellers complement each other, and together we create a better customer experience than either could create alone."