The UK will ban travellers from India from Friday to prevent the spread of a new CCP virus variant first identified in that country, the government has announced.
Addressing the House of Commons, Health Secretary Matt Hancock said the government had made "the difficult but vital decision" to add India to the UK's travel red list.
Under the ban, which will come into force at 0300 GMT on April 23, anyone who is not a UK or Irish resident or a British citizen will not be allowed to enter the UK if they have been in India in the previous 10 days.
UK and Irish residents and British citizens who have been in India during the 10-day period before their arrival will need to stay in hotel quarantine for 10 days.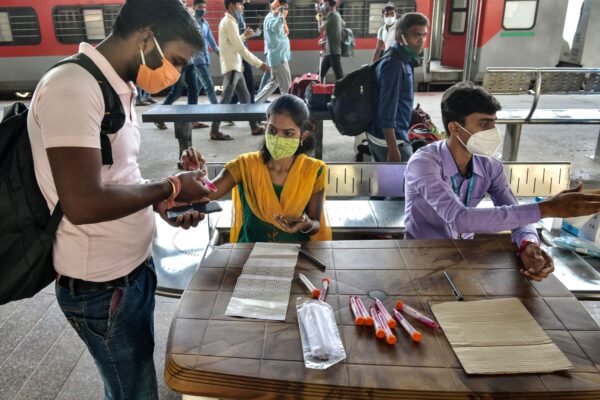 Hancock said that 103 cases of the new Indian variant, known as B.1.617, have been found in the UK, the vast majority of which have links to international travel.
He said the authorities have been "analysing samples from these cases to see if this variant has any concerning characteristics like greater transmissibility or resistance to treatments and vaccines."
Earlier on Monday, Prime Minister Boris Johnson said he had cancelled his planned trip to India, due to concerns over the ongoing CCP virus surge in that country.
India is going through a second wave of the CCP (Chinese Communist Party) virus, with infections passing the 15 million mark. Delhi went into into lockdown on Monday night.
UK health authorities said last week they had begun investigating the new COVID-19 variant first identified in India.
According to the World Health Organisation, the variant was first seen in two Indian states at the end of 2020, and since then has accounted for an increasing proportion of COVID-19 cases in the country.
This variant has two mutations—E484Q and L452R—which have been seen in other variants around the world and are thought to contribute to increased transmissibility and resistance to vaccines.
Hancock also gave an update on the South African variant of the CCP virus.
He said a total of 557 cases of this variant have been found in the UK. Around two thirds of which are related to international travel, but there have been "a small amount of community transmission," he said.
UK health authorities have been carrying out surge testing operations in London and Birmingham, where new cases of the South African variants have been found.
Reuters contributed to this report.